SportsNation Blog Archives

Cam Newton
Peanut butter and jelly. Milk and cookies. Cam Newton and dabbing.
The Carolina Panthers quarterback has been having an MVP-caliber season, and thus we've been seeing a lot of end zone celebrations from him. But none has been more prominent than "The Dab" (inspired by Migos' song "Look at my Dab").
So it was only fitting that SuperCam and his Panthers teammates would celebrate the first 13-win season in franchise history with a tasteful squad dab. Except one squad member didn't feel like dabbing Sunday.
Streeter Lecka/Getty Images
Take a closer look at Greg Olsen in the back:
Streeter Lecka/Getty Images
Closer: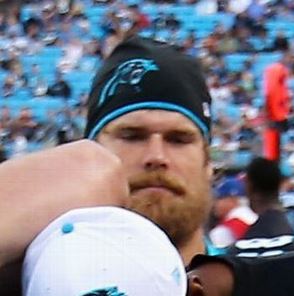 Streeter Lecka/Getty Images
As the Internet went wild for the photo shared on the Panthers' social media platforms, many people noticed non-dabbing Greg. Which prompted him to rectify the situation with the tweet below:
I may not dab but my son does @CameronNewton @Panthers pic.twitter.com/ppTXauTAGu

— Greg Olsen (@gregolsen88) December 13, 2015
All the feels. Greg Olsen wins at Twitter, and his son is an adorable human.
Carolina throttled Washington on Sunday to improve to 10-0. But the real beatdown might have occurred off the field.
The Panthers' social media team engaged in a one-sided battle with Washington on Twitter, making for an even more demoralizing day for anyone with #HTTR (hail to the Redskins) in their bio.
It started after the Redskins account took a jab at the Panthers by declaring, "Carolina is Redskins country," which was met by this zinger:
@Redskins Good luck with getting a trademark on that =

— Carolina Panthers (@Panthers) November 22, 2015
Give the Redskins credit; they didn't back down.
@Panthers shouldn't be too hard after tomorrow.

— Washington Redskins (@Redskins) November 22, 2015
But, man, would they regret it. Quarterback Cam Newton and his five-touchdown day made sure of that.
Panthers 44, Redskins 16.
And, of course, the Panthers weren't about to let that earlier bit of trash talk slide.
You like THAT #PantherNation? Carolina improves to 10-0 with a trademark victory over Washington! #KeepPounding pic.twitter.com/NOEsXsHgf7

— Carolina Panthers (@Panthers) November 22, 2015
Sorry, Kirk Cousins, but we do like that tweet.
Throw in the towel, this one's a wrap. Hopefully the Dallas Cowboys, Carolina's next opponent, know better than to poke the Panthers.