SportsNation Blog Archives

Yu Darvish
Cy Young award winners?
Pitching was king in baseball this year, as the absolute dominance of starters in the playoffs showed in dramatic fashion. It's a new era in MLB, where offense is hard to come by and pitchers are having a blast. Several pitchers, however, clearly stood out among the rest. Our experts gave their choices for the American League and National League Cy Young awards. Do you agree? Cast your votes now!
Twice this season, Rangers right-hander Yu Darvish has entered the eighth inning against Houston having allowed no hits. On both occasions, the Astros have played the spoiler. This time, it was Carlos Corporan breaking up Darvish's no-hitter with one out in the eighth inning on a home run.
It wasn't as dramatic as Darvish's brush with history in April, when he was one out from a perfect game. But there was a questionable balls-and-strikes call Monday that led to Rangers catcher A.J. Pierzynski being ejected. That naturally leaves us wondering what would have happened if Jonathan Villar had stuck out instead of walking and Pierzynski stayed in the game. Does it take a certain amount of luck to throw a no-no? And will Darvish, who clearly has the stuff to accomplish the feat, ever pull it off?
---
Better luck next time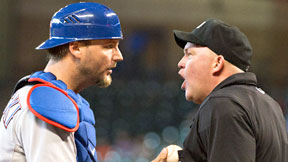 Did A.J. Pierzynski getting tossed for arguing affect Darvish's no-hit bid? We'll never know, but we do know it helps to be lucky when throwing a no-hitter.

---
Thrill of a lifetime
Rangers principal owner Nolan Ryan threw seven no-hitters but only appeared in one World Series. Both are great moments, but which would you prefer?

Yu Darvish may be a bit of a workhorse, but the number of pitches he threw in Thursday's win over the Tigers seems a bit excessive. The Rangers were leading 9-4 in the sixth inning, with Darvish sitting at 106 pitches -- he proceeded to throw 24 more, coming out only after finishing the eighth inning. Darvish threw 127 pitches against the Red Sox just recently, and though he seems to not be suffering any ill effects, the last thing the Rangers would want to do is to blow out their expensive ace's arm on games that are already 90 percent won.
Steve Whitson: "They don't pitch every 5 days in Japan. They get an extra day of rest. I don't think he should have that high of count. Especially with that big of a lead. That was reckless. I am glad that JD talked to him privately after the game. Handle it now before it lands him on the DL."
Jimmy Johnson: "Really have to see his next start on how does. Really don't like that high of a pitch count at this point of the season with a lead like that."
Daniel Tuggle: "He said himself he averaged around 120 pitches a game in japan so I look at it as not a big deal and it's really nothing new to Darvish. He'll be fine."
Mark Vasquez: "Never let the pitcher decide if he wants to stay in."
Billy O'Dwyer: "I wouldn't make a habit out of it but I applaud Washington & Darvish for their desire. The reason we have come to consider 130 pitches/game a little scary is because so many others have destroyed their arms as a result of excessive use."
Charles Haley: "If the tables are turned in the game, Verlander comes out in the 8th. No way would he let Leyland take him out of a game, with that billing, if he still feels good. Roger Clemens, Nolan Ryan, Pedro Martinez, Curt Shilling, they all come out and pitch cause that's what they do. Eat innings and not think a thing about it. It is that attitude that made them the aces they were and Yu the ace he is now!"
Join the conversation or respond by signing in or creating a profile and blogging.