SportsNation Blog Archives

Yu Darvish
Twice this season, Rangers right-hander Yu Darvish has entered the eighth inning against Houston having allowed no hits. On both occasions, the Astros have played the spoiler. This time, it was Carlos Corporan breaking up Darvish's no-hitter with one out in the eighth inning on a home run.
It wasn't as dramatic as Darvish's brush with history in April, when he was one out from a perfect game. But there was a questionable balls-and-strikes call Monday that led to Rangers catcher A.J. Pierzynski being ejected. That naturally leaves us wondering what would have happened if Jonathan Villar had stuck out instead of walking and Pierzynski stayed in the game. Does it take a certain amount of luck to throw a no-no? And will Darvish, who clearly has the stuff to accomplish the feat, ever pull it off?
---
Better luck next time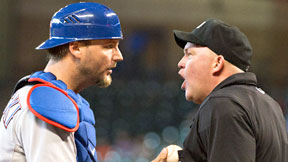 Did A.J. Pierzynski getting tossed for arguing affect Darvish's no-hit bid? We'll never know, but we do know it helps to be lucky when throwing a no-hitter.

---
Thrill of a lifetime
Rangers principal owner Nolan Ryan threw seven no-hitters but only appeared in one World Series. Both are great moments, but which would you prefer?