SportsNation Blog Archives

Tony Romo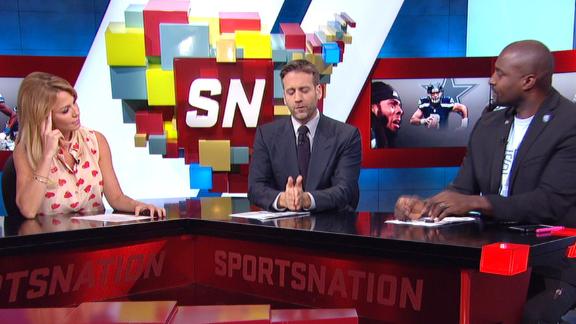 The Dallas Cowboys are 2-5, but they've been missing some key players -- perhaps none more important than Tony Romo.
Does that mean the quarterback's return -- he's eligible to play Nov. 22 -- will make a big difference for Dallas? Despite their poor record, they are only 1.5 games behind the 4-4 New York Giants.
SportsNation hosts Marcellus Wiley and Max Kellerman discussed the issue on today's show. Now it's your turn to decide.
More than a year ago, Jahlil Okafor and noted Duke fan Tony Romo took a selfie together.
Okafor, then a highly touted Blue Devils freshman-to-be, posted it to Instagram, with details of a "deal" he made with the Dallas Cowboys quarterback:
That's right. Okafor, likely to be a top-two pick in the coming NBA draft, promised a Duke title and Romo promised a Cowboys championship.
It's unknown in these parts why the Chicago native Okafor would want a Cowboys championship (although the San Diego-born, Wisconsin-raised former Eastern Illinois player Romo doesn't have a direct connection to Duke, either), but that's no matter.
Also, "next year" could be referring to the 2014 season, in which case Romo came up short.
But we'll give Romo -- who did lead the Cowboys to the divisional round of last season's playoffs before their heartbreaking (and controversial) loss to the Green Bay Packers -- the benefit of the doubt. So over to you, Romo ... even if, without DeMarco Murray, it appears to be a long shot.
Hey, so was Kentucky not winning this year's national title ...
Are the Cowboys legit contenders?
Since being embarrassed in the opening half of the opening game, the Dallas Cowboys have rebounded nicely -- five wins in a row, to be exact, the latest a surprising 30-23 victory at the defending-champion Seattle Seahawks. Now, in a development virtually no one saw coming, Tony Romo & Co. sit tied atop the NFC East with the Philadelphia Eagles. Will they keep it up?