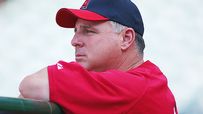 Scioscia has managed the Angels since 2000 and is 900-720.
Welcome to SportsNation! On Monday, we're going to help launch ESPNLosAngeles.com with style befitting the City of Angels when the Los Angeles Angels of Anaheim manager Mike Scioscia stops by to chat.
After a 13-year career with the Dodgers, Scioscia has gone on to become the most successful Angels manager in the team's history. In 10 years at the helm, Scioscia is the all-time leader in wins, games managed and division titles for an Angels manager. He also led the team to its only World Series title.
Scioscia won two World Series as a player (1981, 1988) while making two all-star teams and hitting .259 for his career.
Send your questions now and join Scioscia Monday at 11 a.m. PT/2 p.m. ET!
More ESPNLosAngeles.com: Index | Previous chats | SportsNation
Buzzmaster
(2:00 PM)
Mike will be here shortly, everyone!
Mike Scioscia
(2:15 PM)
Glad to get this opportunity to talk to everyone. I love talking about baseball, so whatever you guys have will be fun.
Sean (Seattle)
Hey Mike - Let me start by saying that you have been a manager we have admired for a long time here in Seattle. That being said, do you see the recent moves by the M's as a threat to your control over the AL West?
Mike Scioscia
(2:16 PM)
The only way you control a position is to worry about what you have to do in-house. It doesn't matter how good another team gets or how weak other teams may be, your focus needs to be on your goal and what you need to do to get there. The Mariners have been a force for a long time and have made some moves that will make them a better team, but we feel we are a better team than last year as well. We want to make sure we stay strong so we can contend.
Damon (Santa Ana, CA)
It looks like the Angels in 2010 may be without four players that were keys to the team's success in 2009, with Figgins, Lackey, Vlad, and now Oliver apparently leaving. How do you think the team will adapt to losing that core of players which has held the club together so well?
Mike Scioscia
(2:17 PM)
There are a lot of ways you try to fill the voids of players that may leave. Some of it is with outside talent, and some is with bringing up players internally. The lion's share is with young players coming up and improving. We need guys like Kenry Morales, Erick Aybar, Howie Kendrick to keep up their growth. Kendrick can be one of the most dynamic hitters in the league if he progresses. We're also hoping Torii Hunter stays healthy. On the pitching side, Weaver, Kazmir, Saunders, and Santana are a pretty good foursome. Those guys need to pitch to their capabilities.
Tyler (SC)
Where did your philosophy on coaching come from? What influenced you with your hit and run style of play?
Mike Scioscia
(2:19 PM)
We're always a product of our experience. I came through the Dodgers organization. Fundamentals were stressed heavily on us--whether it was situational hitting, cutoffs, relays--everything you can imagine. The guys teaching us were a product of the 60s, who would have to scratch and claw for every run. Situational hitting became their rallying cry. Those guys would scratch for runs, pitch, play great defense, and win championships that way. Obviously things have changed a bit since the 60s, but those things still apply, and you need to manufacture runs to beat the better pitchers in our league.
Jock Thompson (Orange County CA)
You've stated that Maicer Izturis and Erick Aybar are your two primary candidates to replace Chone Figgins at the lead-off spot. Any consideration to Bobby Abreu, given team-pacing ability to draw walks and his still-intact running game?
Mike Scioscia
(2:20 PM)
Bobby Abreu is a multi-dimensional player. I think you lose some of his talent if you're not setting the table for him. He will score a lot of runs but will drive in a lot if you let him. I don't think we'll be able set the table as much for him as we'd like, but we consider him our best two-way hitter as far as being able to drive in runs and set the table for the guy behind him.
Justin (Redlands, CA)
Hey Mike, with the departure of Figgins is it Brandon Wood's chance to finally shine? I'd love to see him have a breakout season like Kendry did last year.
Mike Scioscia
(2:21 PM)
We'd like to see that too, but it will really be up to Brandon to step up his game and get the ability to win an everyday position. The bottom line will be how he performs and plays. We have to give him enough time to get comfortable and to win his game. We do have some depth there where we can hopefully get some offensive production.
Mike (Ohio)
Did you have a "Welcome to the big leauges, kid" moment?
Mike Scioscia
(2:23 PM)
I think I had a lot of them, because I was a player who had modest talent, but had to think the game and play hard. I had to earn my way on the field, and just getting through games had to be my top priority. I think probably the first one was my rookie year. Pete Rose was playing with the Phillies and came around third base. He was the hardest guy I ever had to put a tag on against. He was out, but when he got up, the look on his face was one that said "I'll get you next time". You have to overcome the intimidation factor. Fortunately I was able to come up on a veteran team.
Sean (Los Angeles)
Where do you anticipate hitting Hideki Matsui in the batting order?
Mike Scioscia
(2:24 PM)
Hideki is important to us because he can hit in the 3, 4, or 5 spot, and possibly 6 if he's struggling a bit. We can work with him to add balance to our lineup. We'll see where he ends up, but it will be somewhere in the middle. It'll be contingent on how some of the guys around him are swinging.
Kyle Styck (Las Vegas, NV)
Mike, with you playing for the Dodgers, what was it like to play under Tommy Lasorda?
Mike Scioscia
(2:25 PM)
Tommy was the best around at setting an environment for achievement. You felt you could play at a higher level on his team. He expected it and demanded it. He understood the importance of both fundamentals and practice. We had a lot of fun playing for Tommy, but it was all business out on the field, and we worked hard.
Josh (Lake Forest, CA)
How do you feel about the Angels' situation at Closer? Do you think Fuentes can be "The Man" this year. Is there anyone outside of the organization that interests you or is there a young gun that you're hoping will rise up and take over the role?
Mike Scioscia
(2:26 PM)
We feel really good about the back end of our bullpen. We'll have Scott Shields back, who missed last year. Fuentes can be terrific for us if he can maintain that consistency. I think we'll close out the games we have to. If it's just Brian again, that's great, but if it's a combination of players, that will work as well.
Tom (Santa Barbara, CA)
I love what you guys did in last years draft. I know it's early, but Mike Trout seems to be a dynamic player. Do you get to have much input in the draft process? If so, do you guys ever draft for organizational needs, or do you just take the best player available?
Mike Scioscia
(2:28 PM)
I do not have any input on the draft. I will keep in touch with it as much as I can just to see what the talent level is, or if I've seen a guy play in college. Eddie Bain, our scouting director, handles it and does a great job. We generally go for the best player available. You don't want to miss out on a great player because you need a situational lefty. We're very excited about this draft -- we feel it could be like the one in 2001 that got us a lot of talent for the future.
Mike Scioscia
(2:29 PM)
Thanks for your questions. Spring training is right around the corner! We're excited for our team. It'll be a big challenge to get back to the playoffs and beyond.
THIS WEEK'S CHATS (All Times PT)