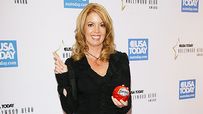 Buss is the daughter of long time Lakers owner Jerry Buss.
Welcome to SportsNation! On Monday, we're going to help launch ESPNLosAngeles.com with style befitting the City of Angels when Los Angeles Lakers Executive Vice President of Business Operations Jeanie Buss stops by to chat.
The daughter of Los Angeles Laker owner Jerry Buss, Jeanie currently serves as Executive Vice President of Business Operations for the Lakers. At the young age of 19, her father Jerry put her in control of the Los Angeles Strings of World Team Tennis. From there, she created the Forum Tennis Challenge Series and she is responsible for bringing in such top notch players as John McEnroe, Pete Sampras, Andre Agassi, Steffi Graf, Chris Evert, and Martina Navratilova.
Send your questions now and join Buss Monday at 2 p.m. PT/5 p.m. ET!
More ESPNLosAngeles.com: Index | Previous chats | SportsNation