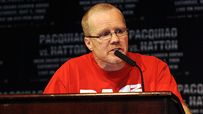 Roach will train Manny Pacquiao for his March 2010 fight with Flyod Mayweather Jr.
Welcome to SportsNation! On Wednesday, we'll be celebrating this week's launch of ESPNLosAngeles.com with style befitting the City of Angels when famed boxing trainer Freddie Roach stops by to chat.
Roach currently trains the No. 1 pound-for-pound fighter Manny Pacquiao, who has won seven world titles in seven different weight classes. He will continue to train Pacquiao for his 2010 fight with Floyd Mayweather Jr. Roach, a Massachusetts native, won the trainer of the year award in 2003, 2006 and 2008. He has worked with other boxers such as: Oscar De La Hoya, Mike Tyson, Bernard Hopkins and James Toney.
As a professional boxer, Roach went 39-15 before retiring in 1986.
Send your questions now and join Roach Wednesday at 10 a.m. PT/1 p.m. ET!
More ESPNLosAngeles.com: Index | Previous chats | SportsNation