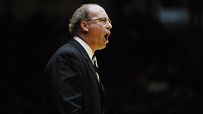 O'Neill and the Trojans have won three straight.
Welcome to SportsNation! On Monday, we're going to help launch ESPNLosAngeles.com with style befitting the City of Angels when USC men's basketball coach Kevin O'Neill stops by to chat.
O'Neill is in his first season at USC after being hired in June, following Tim Floyd's resignation. USC is 5-4 in the early part of the season. He came to the Trojans following a stint as the interim head coach at Arizona. O'Neill has been a basketball coach for nearly 30 years, both collegiately and professionally.
O'Neill was also previously a head coach in college at Marquette, Tennessee and Northwestern and in the NBA with the Toronto Raptors.
Send your questions now and join O'Neill Monday as he comes right off the practice floor, around 5 p.m. PT/8 p.m. ET!
More ESPNLosAngeles.com: Index | Previous chats | SportsNation