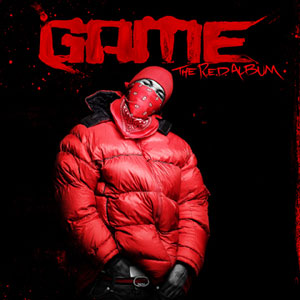 Welcome to SportsNation! On Thursday, ESPNLosAngeles.com brings us a chat with Game, aka Jayceon Taylor, a month before his latest album, The R.E.D. Album, debuts on Feb. 16.
Having grown up in Compton, Game's debut album came in 2005 with "The Documentary." His two Grammy nominations from his first album gave him a quick rise in hip hop.
On his newest album, Game collaborates other artists such as Timbaland, Drumma Boy, Diddy, Mario Winans, Chris Brown, Usher and Boys II Men.
Send your questions now and join Game Thursday at 6 p.m. ET/3 p.m. PT!
More Special Guests: ESPNLosAngeles.com | Previous chats | SportsNation
Buzzmaster
(6:03 PM)
Game is here!
Joe (Canton)
Game, who you got tonight in the National Title game? Huge fan by the way, love all your stuff, not to mention your a million times better than that fake 50 cent! Get em Game
Game
(6:04 PM)
Oh man...I'm going to have to go with Alabama. I like the kid Julio Jones. I've been following him since high school. I like the kid. He's explosive. If he gets open, he's going to score some points. The next Randy Moss.
j rod (tower city pa)
what nfl franchise is coming to la? or which one do you want to come?
Game
(6:05 PM)
I'm telling you. I've had this conversation with my boys over and over again. They're breaking ground on some stadium to attract a football team. At first, they were talking about sending us the Saints, but they started winning every game. We'd just be thankful for any team. We'll take any team.
Jim (Chicago)
How do you like your new album came out?
Game
(6:06 PM)
It's not quite done yet. We're at the 98% point. We're waiting for Dr. Dre to finish an album on Monday. It's going to be a classic. It's monumental. Probably the best album of my career. The instruments and the lyrical content. It's real dope. I anticipate my release date and fans feedback.
Eric (Virginia)
What's going on, Game? What was it like to collaborate with people like Timbaland, Diddy, and Usher? Your music is genius, can't wait for this new album man.
Game
(6:08 PM)
I'm probably the biggest star that doesn't know he's a star. I don't wear a lot of chains. I put on a pair of Levy's and a free t-shirt someone gave me and that's it. When I'm working with those guys, I get star struck. No matter how many times I see them at the awards shows, I get star struck. Especially Dr. Dre. I just stare at him and it's like, wow, that's Dr. Dre.
Derris (Harlem)
Just 'Game' now right? You going to be at the 2010 Super Bowl in Miami and if so will you be headlining any events?
Game
(6:08 PM)
Yeah, I'll be at the Super Bowl at Miami. I play Chad Ochocinco in Madden during the Super Bowl week. I'm going to bring it to him so crazy. It would be dope to kick his butt with his team.
Game
(6:09 PM)
My name needed a haircut. I cut the THE off the top. It annoyed me that people would call me The Game on the streets. It is just more comfortable that way.
Patrick (Riverside, Ca)
Game, I see you are still playing basketball yourself. Can you tell us more about that and how we might be able to catch you at one of your games?
Game
(6:10 PM)
I play for the Los Angeles Slam in the ABA. We're ranked 14th in the nation. I was leading the league in scoring and I had to do a little less Kobe and a little more Jason Kidd with the rock.
Derris (Harlem)
Can you take Baron Davis, one-on-one? What was it like playing with him?
Game
(6:11 PM)
Playing against Baron, he was too big for his age. He was always bigger and huskier. He was a little monster. Broad shoulders and ripped. He was so fast. I always poke fun at the points and what I used to do to Baron, but he definitely got the best of me more than I got him. He's a pro. They're all professionals. I do what I do recreationally, but those are my guys.
Nick (Los Angeles)
what up game cant wait for that r.e.d album. what happen to them lakers last night?
Game
(6:12 PM)
Exactly that. Baron Davis. He made Fisher look like an orange cone. Even the championship Bulls lost to the Clippers sometimes. We'll see if my Lakers aren't back in the championship again this year.
Mike (Kansas)
Game, you a big College Hoops fan? Give me an elite 8 or Final Four? And also tonights rose bowl, who you going with?
Game
(6:13 PM)
Final Four, Final Schmour, man. I don't follow it that way. But one guy I'm following is this kid John Wall. That dude is crazy. I was watching Kentucky all the way through, just to watch him play. USC just got in trouble. UCLA is playing terrible. I could take my 7 year old out there and he could play. But John Wall, first overall pick, my prediction.
Albert (Van Nuys, Ca)
Who's your favorite NFL team?
Game
(6:15 PM)
My favorite NFL team...we don't have a team, but it's just a two hour drive to see my Chargers. Merriman is a good friend of mine. Rivers is a pro bowler. We're ready for the playoffs. Chargers for the Super Bowl. California bias is what I am.
Andrew (VA)
yo game What you think of the Gilbert Arenas situation?
Game
(6:17 PM)
I read his statement on ESPN the other day. Just knowing him, I know he was sincere. Everybody makes mistakes. It lets you know people are human, even if they make bad decisions. I think the NBA came down on him really hard. To suspend him indefinitely without pay is hard, but I can understand it's a business and they have to do what they have to do.
Nick (Los Angeles)
who you got kobe or leBron?
Game
(6:18 PM)
I told you, I'm a California bias. LeBron is a massive dude, but I'm Kobe. That's Michael Jordan again. But LeBron, somebody made him in a factory somewhere. He's a beast, a monster. There's nobody to compare him to. Kobe, he's compared to Mike. Kobe Jordan.
Game
(6:19 PM)
I want to say when you're sick don't drink wheat grass shots, it's like liquid brick. Happy new year. Let's enjoy 2010. Stay drama free. Take it from me.