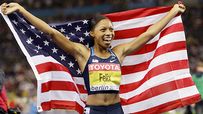 Felix has won three Olympic medals - silver in 2004 and gold and silver in 2008.
Welcome to SportsNation! On Friday, we'll have U.S. track and field star Allyson Felix stopping by to chat as part of ESPN.com's tribute to Black History Month. Felix will be honored with the Los Angeles Sportswoman of the Year award Friday night.
A native of Los Angeles, Felix earned two gold medals at the 2009 World Track and Field Championships in Berlin. She helped win the 4x400 relay as well as the 200 meters, making her the first woman ever to win three straight world 200 meter titles. Felix was also the L.A. Sportswoman of the Year recipient in 2007.
Send your questions now and join Felix Friday at 5:40 p.m. ET/2:40 p.m. PT!
More Special Guests: Previous chats | SportsNation
Buzzmaster
(5:35 PM)
Allyson Felix will be here shortly to take your questions!
Buzzmaster
(5:37 PM)
Allyson is here!
Alisha (New Orleans, LA)
How do you balance your career and with family and friends?
Allyson Felix
(5:37 PM)
It's just all about schedule and making sure I make time for everything. Setting a specific time and making sure my priorities get taken care of.
Virgil (Denver, Colorado)
What is your favorite sport in the Winter Olympics?
Allyson Felix
(5:38 PM)
Yes, I haven't been diligently watching it, but I've caught a lot of it. I admire those athletes. I like the speed skating.
Vince (Philly)
what does winning the LA award mean to you?
Allyson Felix
(5:39 PM)
That's a huge honor to me. Being raised in LA, having so many sports stars, I would never imagine to win it. That honor is amazing.
Dorian Powell-Harris (Atlanta, Georgia)
Hey Allyson, My question is: You are one of the few sprinters of today that are world-class in the 100,200,and 400- That being said, How do you decide on what to focus on in major championships and what advice would you give to a track athlete trying to make a decision with all-around talent?
Allyson Felix
(5:40 PM)
The way I choose is basically I have a passion for the 200 meters. I always want to run that. So everything else is whatever the schedule permits. My advice would be to go with what you truly love and go from there.
victor (monroe,louisiana)
Do you plan to run track and field in the olympics in 2012?
Allyson Felix
(5:40 PM)
I am looking ahead to 2012. I definitely plan to run there and hopefully am successful.
Chiyo (Japan)
Are you planning on going to Japan this season?I'm looking forword to seeing your race here in Japan!
Allyson Felix
(5:41 PM)
Yes, I am! I don't have the specific date yet. I look forward to going there every year. The fans there are the greatest.
Candace (New Orleans, LA)
What are some of your favorite athletes of all times?
Allyson Felix
(5:41 PM)
Michael Jordan. Jackie Joyner-Kersee. Kobe Bryant. Carl Lewis and FloJo.
Matthew (Los Angeles)
what can be done to get track a more prominent place in the American sports scene?
Allyson Felix
(5:42 PM)
I think it's tough just because track isn't on TV as much as other sports. One positive thing we can do is have great performances. Bolt has done a great job of doing that. I think we just need to work hard on that.
Alisha (New Orleans)
What other summer olympic event do you enjoy?
Allyson Felix
(5:43 PM)
I love gymnastics. When I was little, I wanted to be a gymnast, but I was already too tall. That's one of my favorite things to watch in the Summer Olympics.
John Redman (Bath Oh)
Allyson , what do you eat pre- race and post race?
Allyson Felix
(5:43 PM)
For me, it's a big deal for me to keep weight on, because I run so much. Anything high in protein. A lot of steak, fish, chicken.
Lauren (los angeles, CA)
I know you are a big USC Trojan. How do you feel about Pete leaving?
Allyson Felix
(5:44 PM)
I'm so sad to see him go. I'm excited for things to come. Lane Kiffin came back. I think we have a good core group. Fight on.
Dominique King (Hampton, Va)
How do you balance your outside life and training and what are some records you want to break?
Allyson Felix
(5:45 PM)
I train with Bobby Kersee. I put all of the balance of my training on him. I let him do that. The records, I take it year by year. A lot of them are far out there, but being patient is the best way to go about it.
victor (monroe,la)
when will track and field return on tv?
Allyson Felix
(5:46 PM)
I think this year will be a great year because there will be a lot more events from the European circuit on TV. We'll definitely keep everyone posted on what meets will be on.
victor (monroe,louisiana)
Do you think the usa will win gold in the 4by400relay?
Allyson Felix
(5:47 PM)
It's great. It's one of my favorite events to run in. I feel like each year we're getting faster. It's a really good event.
Lauren (los angeles, CA)
How do you do deal with missing your puppy, Chloe, while you are traveling?
Allyson Felix
(5:47 PM)
It's horrible! But I have great friends who keep an eye on her and send me videos and pictures. That helps me deal with missing her.
Trey (New Orleams)
What do you enjoy about Europe?
Allyson Felix
(5:48 PM)
I love just the competitions themselves, but I also like seeing the world. It's an honor getting to go to places I don't think I would ever be able to go. That's the best part.
CR (Toledo,Ohio)
I know train really hard for yours races. What are your practice workouts like??? & How do know you are getting better???
Allyson Felix
(5:49 PM)
Generally it's about 4-5 hours a day leading into the event and then it's lesser as you get closer. On the day of the event, I warm up for about an hour.
Stephen (Euclid)
hey, Allyson! Do you enjoy watching other events besides the sprints, and if so, which ones are your favorites?
Allyson Felix
(5:49 PM)
Yes, I love watching the hurdles, the short and long. I love the long jump. I'm pretty much a fan of track in general, but those are some of my favorites.
Allyson Felix
(5:50 PM)
I really appreciate everyone participating. I'm excited about this upcoming season!
THIS WEEK'S CHATS (All Times PT)