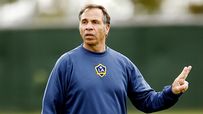 Arena leads the Galaxy against the Revolution in the season opener Saturday.
Welcome to SportsNation! On Friday, Los Angeles Galaxy head coach and general manager Bruce Arena will be here to take your questions as the 2010 MLS season kicks off this week.
Arena took over the Galaxy reigns part of the way through the 2008 season. In 2009, his first full season as coach, he compiled a 12-6-12 record, good enough to finish first in the Western Conference, and second overall. The Galaxy went on to win the Western Conference and advance to the 2009 MLS Cup.
Arena is a two-time winner of the MLS Cup, winning both with the D.C. United. He also coached the U.S. men's national team in the 1996 Olympics and 2002 and 2006 FIFA World Cups. his 71 international wins as head of the U.S. team makes him the most successful U.S. coach of all-time.
Send your questions now and join Arena Friday at 3:30 p.m. ET/12:30 p.m. PT!
More Special Guests: Previous chats | SportsNation
Buzzmaster
(3:27 PM)
We've got Bruce!
Cesar (LA)
Whats your biggest concern coming into the season opener?
Bruce Arena
(3:28 PM)
I think with any opener, just having the team going out there and playing well and playing relaxed. If we can do that, I think we'll be capable of getting three points in the game.
Brad (Gadsden,Alabama)
Bruce, Other than the Home Depot Center where is some other tough places to play?
Bruce Arena
(3:29 PM)
I think Seattle is. For a couple of reasons. The fan base is great. The field is difficult and often slick because of the rain in Seattle. They have a great homefield advantage because of their fans. I would also say New England as well, because the turf is difficult to play on there. Toronto as well. It's been difficult with the artificial surface up there.
Punk Rock Chris (Redondo Beach)
When you walk out and wave to the riot squad, do you prefer the chant "Bruce Bruce Bruce Bruce!" or just one big "BRRRRUUUUCCCEEEEEEEEE!!!!"
Bruce Arena
(3:30 PM)
Any kind of chant that's favorable is fine with me. Whatever you prefer is fine with me.
Anthony (Huntington Beach)
Scoring in the preseason has been rather anemic, are you doing anything at practice to try to get the team on track, or is this an offensive skill that needs to develop through the season as the team gels?
Bruce Arena
(3:31 PM)
Of course we do things that are designed to help promote our team to create more attacking chances and create plays. We work on that on a daily basis. Only time will tell. I think we've had a good preseason in terms of how we've created chances. We've scored some goals in the preseason, but we need to be better at it once MLS starts.
Cesar (LA)
Taking over the team in 2008, how fast did you think you could turn the Galaxy around?
Bruce Arena
(3:32 PM)
I thought it would take a couple of years. I think the roster I inherited in August 2008 was not a roster that could win a lot of games in MLS. I knew there had to be some radical changes. However with the makeup of our league, you knew you weren't going to change things over night. We were fortunate of how things worked out in 2009. 2010 will be a good showing of how far we've turned things around on a consistent basis.
Oscar Bolanos (Pasadena, CA)
With Beckham out with an injury till the end of the season, will you be looking to sign any other player to fill some of his skill on the field?
Bruce Arena
(3:33 PM)
Right now, we're going to wait and see. We have no plans to sign another player. I think we want to see how we kick off the season. If we have some concerns, we might bring in another player. The team that we place on the field at the beginning for the most part will be the same team that we see at the end of 2010 as well.
Gabe (Pasadena)
Hey Coach, how are the three brazilians integrating into the team? Is their english alright? Goodluck tomorrow.
Bruce Arena
(3:34 PM)
They are doing very well. I think their transition has been a lot smoother and quicker than I thought. I think they'll show throughout 2010 that they are very good additions to our team.
Frank (Dallas)
Who are the top three players, in your opinion, on the US Soccer Team?
Bruce Arena
(3:36 PM)
I think you need to start with Landon Donovan. I think Tim Howard is a real solid goalkeeper at the international level. I think Michael Bradley continues to grow as a good two-way midfielder. Bocanegra. Clint Dempsey continues to be an improved player at the international level. I think the key to the U.S. team now are the other players around the nucleus of that team. Fortunately, there is still time for some of those injured players to come back. Altidore, if he can continue to improve, it's going to be key in the U.S. efforts as well.
Kevin (VA)
How do you think U.S. will do in the World Cup?
Bruce Arena
(3:36 PM)
I think they'll get out of their group. Regardless of the result against England, they can get results out of the other matchups in group play.
ElPocho (Anaheim)
Hey Coach, what can be said about the state of play of MLS gauged by the Galaxy's trio of Brazilians? What's their impression?
Bruce Arena
(3:38 PM)
To be honest with you, they haven't played in the league yet, so I don't think they have a real impression yet. The league continues to grow, not only in the quality of domestic players, but also the variety of players from abroad. We see many players from South America, Central America and Europe. I think the league will continue to grow and one day be among the best in the world.
Rody (High Desert)
Which Galaxy player you expect to have a surprising impact for the this season?
Bruce Arena
(3:39 PM)
I think Edson is positioned to have a good year. He's an important part of our team. He's healthy. If he can get back into a goal scoring rhythm, he can have a big impact on our team. I hope that's the case.
Eli (Seal Beach, CA)
If you could get any soccer player from any team on Earth to play for the Galaxy, who would you choose?
Bruce Arena
(3:39 PM)
I think Messi. There are obviously some other great players, but I think today he's the best player in the world. He'd be a fabulous player to have in Los Angeles.
Glenn (Los Angeles, CA)
Landon Donovan had a great performance in Everton and teams like Chelsea have already stated they would like to buy his contract. If a summer transfer happens do you think you have a player that can take over Landon Donovan's role in the team (not just as player but also as leader)?
Bruce Arena
(3:40 PM)
It's not an easy question to answer, however, we don't anticipate Landon moving in the summer. If he did, he'd be a difficult player to replace.
bq (St. Paul)
If you were coach of the US National Team again, would you consider Charlie Davies as part of your squad knowing he will not fully be recovered by May, 11 when you need to pick your initial 30. In other words, would you ever consider a player for inspirational purpose even if he's not 100% fit.
Bruce Arena
(3:41 PM)
I'm not privileged to where he stands in his rehab, but I am aware of the fact that if he's not close to full fitness and he has not played any games in 2010, it would be hard to select him for one of the 23 spots on the roster.
Marty (South Florida)
Greetings Bruce! ~ Do u think David has any chance of returning to The Galaxy Lineup befor the end of the season? I am really disappointed that he got injured so badly. I really wanted to see him, Landon
Bruce Arena
(3:42 PM)
There is a chance. With this kind of injury, it's way too early to tell. I wouuld say the earliest he could return is about September. This is an injury that's fairly predictable in terms of returning to full competition. It could be less than 50-50 that he has a chance to play this year.
Bruce Arena
(3:44 PM)
I would like to thank all the fans in L.A. for all of their support. I've been here for less than 2 years, but it's pretty noticeable that we have great fans. We appreciate them for all of their continued support because we know we've been up and down the last 5-6 years. We're looking forward to playing for them again this year. We'll see you out there on Saturday.