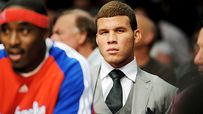 Griffin was named 2009 Summer League MVP.
Welcome to SportsNation! On Tuesday, Los Angeles Clippers forward Blake Griffin stops by to chat about the upcoming NBA draft.
After a stellar career at Oklahoma, Griffin emerged as the No. 1 overall pick by the Clippers in the 2009 draft. However, he suffered a knee injury just days before the start of the 2009-10 NBA season and he missed his entire first year in the league with the injury.
Griffin is teaming up with Subway to help spokesman Jared Fogle train for a marathon. The Oklahoma basketball product is showing Fogle how some of his basketball training can help him prepare for the marathon.
Send your questions now and join Griffin Tuesday at 1:45 p.m. ET!
More Special Guests: Previous chats | SportsNation
Buzzmaster
(1:40 PM)
Blake Griffin will be here at 1:45 p.m. ET to take your questions!
Austin (Porter Ranch, Ca)
Concerning your knee, how is it feeling right now and do you still have that explosive step we've all been waiting to see since you got drafted by the LA CLIPPERS?
Blake Griffin
(1:47 PM)
My knee's feeling great. I'm just working out right now, getting ready for next year. As far as my explosiveness, I feel like it's back to where it was.
Jared (Fishersville)
15 years from now how do you think your carrer will look like
Blake Griffin
(1:47 PM)
I'd like to be a hall of famer in 15 years.
Jeff (Chicago)
How much fun are you having working out with Jared?
Blake Griffin
(1:48 PM)
It was a lot of fun, getting him ready for this marathon. I'm spending some time out here enjoying some Subway.
Myles B (Santa Monica, CA)
What aspect of your game have you improved the most while you've been out recovering?
Blake Griffin
(1:48 PM)
My shot. Shooting definitely has been a focal point. Really getting up a lot of shots.
Hayden (Logan, Utah)
Did you want the big 12 to collapse? why?
Blake Griffin
(1:49 PM)
I didn't want it to. I was a little worried it would collapse. I think it's a good conference. I'm glad they decided to keep it together.
Jamie (New Zealand)
Would you like to see Brian Skinner come back to the Clippers next season? Are you jealous of his amazing beard?
Blake Griffin
(1:49 PM)
If that's what the team needs, I would love to see him back. As far as the beard, I'll stick with my no facial hair. Good question.
Jason (Inland Empire)
Hi Blake, Do you feel that you have a lot to prove, since you will be compared to both this year's and last year's draft class? Also, how is the jumper & free-throw shooting coming along? Thanks.
Blake Griffin
(1:50 PM)
Definitely. Missing last year makes me that much more excited and hungry to play well this year and perform well.
Hal T. (Concord, CA)
Are you going to be playing in the Summer league this year? Looking forward to a great year for you and the clippers.
Blake Griffin
(1:50 PM)
I'll just be working out all summer. I'm not going to play in the Summer League, just work out with the team.
Ryan (Massachusetts)
Who do you think the Clippers should draft Blake?
Blake Griffin
(1:51 PM)
I think we'll try to find a 3, a nice swingman. To defend and knock down open jumpers.
Tom (Seattle)
You played with Willie Warren for a season in Oklahoma. In your opinion, how good is he going to be in the NBA?
Blake Griffin
(1:52 PM)
He can be very good. He's a talented scorer. He's got a variety of ways that he can score. He can take some contact and finish. He can go to the post.
CP (Reno)
How sick are you of hearing about the Clippers Curse?
Blake Griffin
(1:52 PM)
It gets pretty old, but we have to do something to change that and I plan on it.
Herb (LA)
So are you a Rookie this year or Sophomore?
Blake Griffin
(1:53 PM)
It will be my rookie year in my opinion.
Kamal Cooper (Bahamas)
Hi Blake,What was your favorite basketball team growing up?
Blake Griffin
(1:53 PM)
Probably the Bulls.
john (LA)
when are we going to see coaches/players settle in for the team?
Blake Griffin
(1:53 PM)
To be honest, I don't really know. Hopefully some time in the next 2-3 weeks.
los angeles, ca [via mobile]
What free agent would you like the clippers to pick up if you can't sign lebron james
Blake Griffin
(1:54 PM)
I haven't been paying attention as far as who we're going to get. When the time comes I think we'll definitely try for whoever will be the best fit.
Hayden (Logan, Utah)
do you get free subway for life like happy gilmore?
Blake Griffin
(1:55 PM)
No, I don't. I don't get free Subway for life, but I wish I did.
Blake Griffin
(1:55 PM)
I'd go there every day.
Jose (LA)
Are you following the World Cup?
Blake Griffin
(1:55 PM)
I have. I'm a big soccer fan. I try to follow the World Cup as closely as possible.
Mike (New York, NY)
What types of training advice did you give to Jared as he trains to run a marathon?
Blake Griffin
(1:56 PM)
Really helped him on endurance and eating well. That included going to Subway and getting a healthy meal as often as possible.
Justin (Palm Desert, CA)
Blake, Xavier Henry was on your AAU team. How talented is he and can he play the 3 in the NBA?
Blake Griffin
(1:56 PM)
I think he's very talented. I think he can definitely play the 3.
Will Haben (MN)
Who was the toughest player you played against in college??
Blake Griffin
(1:57 PM)
Michael Beasley was tough to guard. He and Derrick Rose, when we played against him was very tough.
Joe (LA)
How do you model your game after?
Blake Griffin
(1:57 PM)
There are a couple of different guys - Carmelo Anthony, Amare Stoudemire.
Craig (Oklahoma City)
Whats your prediction on the Red River game this year?....Don't be shy cause I need a final score prediction too! HUGE FAN!!!! Wish the Thunder would go after you via trade!
Blake Griffin
(1:58 PM)
You know I have to go with OU!
Eudell (Chesapeake VA)
Is everything on track? How is rehab?
Blake Griffin
(1:58 PM)
No, no set backs. I was fortunate. Everything's been going on track. I've been cleared 100%. I'm going full speed.
Jeff (NYC)
I hear that you are a pretty funny. When can we expect to see you hosting Saturday Night Live?
Blake Griffin
(1:58 PM)
I'd love to host Saturday Night Live. I don't know though. I'll probably have to play a few games first.
Nick (NJ)
What do you think about the World Cup, who are u rooting forThanks Blake
Blake Griffin
(1:59 PM)
Besides the U.S., I like Brazil. I'm hoping the U.S. can pull out a win tomorrow and make it to the Round of 16.
Blake Griffin
(2:00 PM)
Thanks for writing in everybody. Hope to do it again soon.