Chat with UCLA's 'Joe Bruin'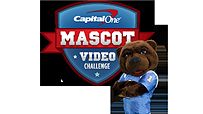 Welcome to SportsNation! On Tuesday, we start look ahead to Week 3 for the college football season with members of the Capital One All-America Mascot Team, who will compete each week to be named the Capital One Mascot of the Year, awarded on Jan. 1 at the Capital One Bowl on ESPN.
Each week of the season, the 16 mascots will face off in eight matchups with fan voting deciding the winner. At the end of the season, the mascots with the best win-loss records advance to the playoffs.
But, why mascots? Why not! They are the unappreciated glue. Plus, the winning mascot earns $20,000 for the school and the praise of the United Coalition of College Mascots.
This week, we've got UCLA's "Joe Bruin," whose signature move is the historic "Bruin Break Dance." He has some intriguing thoughts on his chances for 2010, if he's more bear than man, the UCLA football program, and why he's superior to his competition.
Send your questions now and join "Joe Bruin" Tuesday at 4 p.m. ET!
More Mascot Madness: Capital One Bowl | All-America Mascots | NCAA FB Index