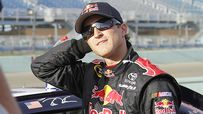 Kahne currently sits in 12th in the points standings.
Welcome to SportsNation! On Tuesday, we'll be chatting with Kasey Kahne as he prepares for Sunday's Sprint Cup's Auto Club 400.
The 400, as well as the Nationwide Series' Royal Purple 300, will be run at the Auto Club Speedway in Fontana, Calif. In his No. 4 Toyota Red Bull this year, Kahne has two top-10 finishes in his four starts.
Fans can find out more about this weekend's races on the Auto Club Speedway's Facebook page and on Twitter: @ACSupdates.
Send your questions now and join Kahne Tuesday at noon PT/3 p.m. ET!
More Special Guests: Previous chats | SportsNation
Buzzmaster
(3:07 PM)
Kasey Kahne will be here shortly to take your questions!
Buzzmaster
(3:16 PM)
Hang in there folks. We're checking on Kasey.
Buzzmaster
(3:17 PM)
We've got Kasey!
Bill (york, ME)
What things have you and the RedBull team been doing each race weekend that has got you finishing successful?
Kasey Kahne
(3:18 PM)
I'd say preparation. Being Red Bull built some really nice race cars going into this season. Having a lot of people that want to run well. It's a huge part of it.
Kristen (Alabama)
What is different preparing for this track compared to the others?
Kasey Kahne
(3:19 PM)
It's pretty flat for a 2-mile, pretty fast race track. Just getting the car to go around the corner. You don't have the air pushing the car down. It seems like a pretty difficult track to get your car perfect.
Kristina (CT)
Last year at this point you were ranked 30th in points, you are currently 12th in points. Congrats! How does that feel?
Kasey Kahne
(3:20 PM)
It feels great to be working with a new group of people and enjoying racing. Our start has been good but not as good as we want. We'll see how this year goes.
Joyce M (Richmond VA)
You were awesome in the truck race...Do you think you will be doing more truck races in the future?
Kasey Kahne
(3:21 PM)
I really like driving the trucks so hopefully I can run some more for Kyle. He's got a good team. Hopefully I can do some more for him this season. Not sure which ones yet, but hopefully a couple more.
Nicole Raines (Tennessee)
Kasey, do you think the new points system is better or worse for the sport and why?
Kasey Kahne
(3:21 PM)
I think it's going to take a full season to know for sure. So far it seems perfectly fine. It's simplified and makes it easier to understand and know where you're at. I think it's been good so far.
Jeff Rasmussen (Gulfport, MS)
You have now driven in 3 of the 4 car manufactures in Sprint Cup series is there any big difference in the cars?
Kasey Kahne
(3:22 PM)
The cars are all really similar, it's just basically how you build them. The engines have been different. The way each manufacturer builds the engines changes the car. Having a chance with all of the engines has been cool for myself.
eric (rome,ga)
how hard was it to leave the team you had been with for years knowing you would be changing cars twice?
Kasey Kahne
(3:23 PM)
With the circumstances we were in, it was actually really easy. It was time to make a change. But I feel like my first four years of my NASCAR career was pretty exciting. I was happy to have been with them and learned all I could, but I felt it was time to move on to another team.
Taylor (Papillion, NE)
What is your race strategy? How do you plan on getting/staying up front and putting yourself in the top 10 points or even get your first win in 2011?
Kasey Kahne
(3:24 PM)
The biggest thing is staying super focused all of the time, not putting yourself in a bad position. Being prepared and having good race cars each weekend. A big part of it is having a car you feel in control with.
Tiffany (Louisiana)
What's one track that you would love to win at?
Kasey Kahne
(3:24 PM)
Actually, last week's track, Bristol. It's a tough track to win at and the guys that win there seem to be strong at it, so it's hard to beat them.
amanda (charlotte)
you recently tweeted you were in a shuffle board tournament but you never said how you did? did you win?
Kasey Kahne
(3:25 PM)
I actually finished third. We were really good early and fell apart the last two games.
Jenn McNeill (Reading, PA)
Kasey - What do you think will be your biggest obstacle to over come this season to make it into the chase?
Kasey Kahne
(3:26 PM)
The biggest thing is being consistent over the first 26. Not having mistakes. Not having failures. Staying on top of it from myself, the team, the pits. Every week. We have to be more consistent than in the past.
Brian (NC)
Any news on next year's ride?
Kasey Kahne
(3:26 PM)
We're really just focused on the Red Bull car and making sure we have a great season. Next year when it comes, we'll focus on that. The future looks pretty good.
Joseph (Ohio)
Do you like Bristol as much since they repaved it? Also, what track would you say is your strongest?
Kasey Kahne
(3:27 PM)
I like Bristol a lot, how it is. You can race a little bit better. But I liked the old Bristol too. You race whatever you're given. I think our best track is Atlanta.
Kristina (CT)
Does the Kasey Kahne Foundation have any upcoming events?
Kasey Kahne
(3:28 PM)
We're always working on raising money and doing things for underprivileged children. As of right now, our next event, I'm not positive of the date, but we'll have some more events this year. Thanks to all of the fans for supporting it.
Chris (Red Lion, Pennsylvania)
Hey Kasey thanks for chatting with us today! How would you rate your performance so far in the Red Bull Toyota? Good luck this weekend.
Kasey Kahne
(3:29 PM)
I'd rate them decent. We could have easily ran better in Daytona. Las Vegas we had a top 8 car and had some damage there. It's been decent, but we can definitely improve from where we're at.
Moncia Gibson (Charlottesville Va)
Any plans for your upcoming birthday?
Kasey Kahne
(3:29 PM)
No plans yet. I know that we'll definitely have some fun and end up doing something that will be a good time with friends and family.
Kari (Minneapolis)
Do you miss the #9?
Kasey Kahne
(3:30 PM)
No. It's weird. I was always thinking if I left, how would it be to race against it. But with the changes with the sponsor and all that, I don't feel like it's the same car. I don't feel like I drove the car that's out there now. It's so different.
Kasey Kahne
(3:31 PM)
Thanks for the questions. We'll keep working hard. We're going to win some races.
THIS WEEK'S CHATS (All Times PT)