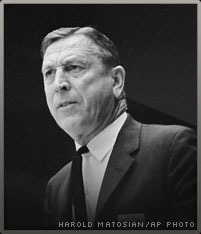 John Wooden
UCLA coach (1948-1975)
On a large wall at the entrance of UCLA's student recreation center, a building aptly named after legendary men's basketball coach John Wooden, you'll see an enormous decal displaying the coach's "Pyramid of Success," a guide applicable to sports and life. The pyramid is built around a series of principles, with "industriousness" and "enthusiasm" serving as cornerstones to the structure. Twenty-three other personal values, including things such as "initiative," "skill" and "poise," make up Wooden's renowned model. Really, who could ever argue with his formula?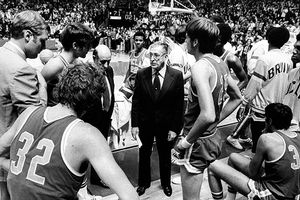 ESPN
During what would end with their first loss in 89 games, the Bruins gather around John Wooden for their final timeout against Notre Dame in South Bend, Ind., in January 1974.
Nicknamed the "Wizard of Westwood," Wooden guided the Bruins to 10 national championships, including seven in a row from 1967-73. Such dominance is unheard of in today's game and might never be duplicated. His teams, composed of players such as Lew Alcindor (Kareem Abdul-Jabbar) and Bill Walton, put together a mind-numbing 88-game win streak during that span. Eighty-eight. Straight. Victories. In all, Wooden posted a 620-147 record (.808 winning percentage) in 27 seasons at UCLA. "Success is peace of mind, which is a direct result of self-satisfaction in knowing you made the effort to do your best to become the best that you are capable of becoming," Wooden once said. Because of his tremendous success from the bench, Wooden's career as a player has often been overlooked. He won a national title and became a three-time All-American at Purdue, later earning induction into the Basketball Hall of Fame in 1961. Wooden was enshrined as a coach 12 years later, becoming the first to ever be inducted in both categories. Wooden died in 2010 at 99 years old. His second-row seat behind the Bruins' bench, where he posed for countless photos and penned countless autographs over the years, will forever remain vacant as a tribute.
2011 L.A. Hall of Fame classmates: Magic Johnson | Kareem Abdul-Jabbar | Wayne Gretzky | Sandy Koufax