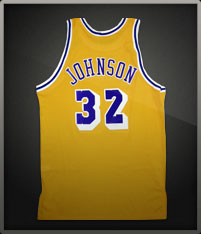 Magic Johnson
Lakers (1979-1991, 1995-1996)
Not only did Earvin "Magic" Johnson redefine the point guard position by becoming the tallest to ever play the spot, he did so with flare, captivating crowds with a dazzling array of skills that were truly fitting for glitzy Los Angeles. A Johnson-led fast break was must-see action. Blink and, well, you'd probably be regretting it for weeks. The No. 1 overall selection in the 1979 draft put the "show" in the Showtime-era Lakers.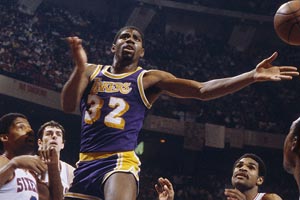 ESPN
Magic Johnson, dishing the ball against the 76ers during the 1980 NBA Finals, led the Lakers to nine Finals and five championships.
Perhaps most notably, Johnson became the city's greatest "winner," leading the Lakers to nine NBA Finals and five championships, including an MVP performance in his 1980 rookie campaign. It didn't take long for Angelenos to fall head over heels for the kid from Lansing, Mich. If the amount of No. 32 throwback jerseys seen around the city are any indication, locals are still falling for him. Despite being the NBA's all-time leader with 11.2 assists per game, Johnson might be most notoriously known not for a pass, but a shot. With the rival Boston Celtics 12 seconds away from tying the 1987 NBA Finals at two games apiece, Magic sank the biggest shot of his career, a mini skyhook over Kevin McHale that hushed the Boston Garden and gave the Lakers a 3-1 series edge and, ultimately, the title. Johnson was enshrined into the Basketball Hall of Fame in 2002 with these career accomplishments: three NBA MVP trophies, 12 All-Star selections, 138 triple-doubles (second all-time) and averages of 19.5 points and 7.2 rebounds per game. Larry Bird, showing respect for his longtime nemesis, introduced Magic. "I'd like to call out to all New Englanders, the Boston Celtic fans throughout the country: it's time to lay down your weapons," said Bird, drawing laughs during the induction ceremony. "The battle is finally over and it's time to move on. I can remember the first time I laid eyes on Magic Johnson. We played on an all-star team back in college. I could not believe what I was seeing in practice. ... I remember going home and telling my older brother, 'I've just seen the greatest basketball player I'm ever going to see in my life.'"
2011 L.A. Hall of Fame classmates: John Wooden | Kareem Abdul-Jabbar | Wayne Gretzky | Sandy Koufax