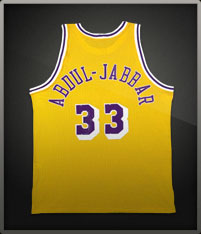 Kareem Abdul-Jabbar
UCLA (1965-1969),
Lakers (1975-1989)
Opponents knew his skyhook was coming but could do little to stop it. Defenders could anticipate that arching, fading whirl of the arm and play it perfectly and yet, it made no impact. Synonymous with what he considered to be dominant, Kareem Abdul-Jabbar rode his signature, go-to move all the way to the top of the NBA's all-time scoring list, amassing 38,387 points in 21 seasons.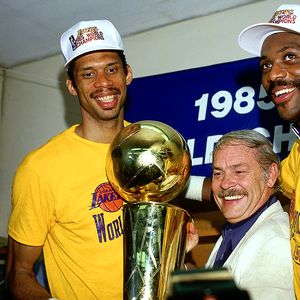 ESPN
Kareem Abdul-Jabbar, here celebrating the 1985 world championship with Lakers owner Jerry Buss, is a six-time NBA champion.
A stride with the right foot, another with the left and up went Kareem. It was simple, compact, serene and rather vicious ... all at the same time. The sequence was over as quickly as it began; the ball found the bottom of the net more often than not. If that wasn't enough, Kareem could use either hand. "Kareem Abdul-Jabbar was far and away the best player I ever played against," Bill Walton once said. "His skyhook was unstoppable." Abdul-Jabbar's trophy case proves it. He won six NBA MVP Awards -- more than any player in league history -- and six NBA championships, including five with the Lakers. Abdul-Jabbar, known as Lew Alcindor while at UCLA, led the Bruins to an 88-2 record, three NCAA titles and was twice named National Player of the Year in three seasons under coach John Wooden. Abdul-Jabbar helped UCLA's freshman team to an upset of the varsity squad, but that was only a glimpse of things to come. On April 5, 1984, against the Jazz, Kareem passed Wilt Chamberlain on the all-time scoring list with, fittingly, a soft turnaround skyhook. "I remember thinking, 'Wow, it's over. I finally got over the hump,'" Abdul-Jabbar would later say. "It was quite a couple of months leading up to it. I was having dreams about it. At a certain point, I was in a long-distance race with Wilt Chamberlain and I was trying to pass him in a foot race, literally."
2011 L.A. Hall of Fame classmates: Magic Johnson | John Wooden | Wayne Gretzky | Sandy Koufax