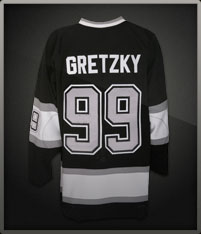 Wayne Gretzky
Kings (1988-1996)
After an emotional goodbye to Edmonton, Wayne Gretzky almost single-handedly popularized hockey in Los Angeles by joining the Kings via "The Trade" in 1988.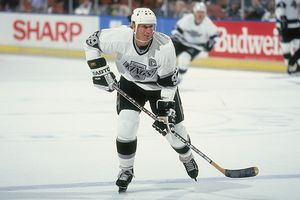 ESPN
The popularity of Wayne Gretzky and the Kings gave the Showtime-era Lakers a run for the money. In 1993, Gretzy led the Kings to the Stanley Cup finals for the first time.
The acquisition of "The Great One" generated instantaneous buzz. Bruce McNall, then-owner of the Kings, wanted to make a splash by bringing in a top-tier player who could alter the hockey market. Gretzky, coming off back-to-back Stanley Cup finals wins with the Oilers, was the perfect candidate. "It's very exciting to be here," Gretzky said in front of a large gathering at his introductory press conference. "It's something that I think will not only be good for Wayne Gretzky and the L.A. Kings, but I think a move that will be beneficial to the game of hockey. "I hope that I can bring a winning attitude and hopefully make this franchise a successful franchise." Gretzky wasted no time in wowing his new city, scoring on his first shot on goal in his first regular-season game with the Kings. Suddenly, the Showtime-era Lakers had some competition in Los Angeles. He continued to take the town by storm, helping the Kings to a shocking upset of his old team, the defending champion Oilers, in the playoffs. Gretzky-mania reached its peak in 1993, when the Kings reached the Stanley Cup finals for the first time in franchise history. Gretzky, widely considered the best hockey player of all time, spent the better part of eight seasons with the Kings. The nine-time NHL MVP holds 61 league records, including career and single-season records for goals, assists and points. He was named the Associated Press' Male Athlete of the Decade for the 1980s. A bronze in his likeness stands outside Staples Center.
2011 L.A. Hall of Fame classmates: Magic Johnson | John Wooden | Kareem Abdul-Jabbar | Sandy Koufax