One of our panelists did not include include Kareem Abdul-Jabbar in the top five: Watch

In Los Angeles' vast array of sports crown jewels, he is perhaps the brightest, compiling a record of performance unparalleled among the city's greatest athletes. But the diamond is imperfect, troubled by an image problem that sometimes threatens to undercut his résumé.
There is no question Kareem Abdul-Jabbar should be a first-ballot inductee into the ESPN Los Angeles Hall of Fame. He won three NCAA men's basketball championships at UCLA and was named the tournament's Most Outstanding Player each year. He went 88-2 in his three years in Westwood (freshman weren't allowed to play varsity in those days). He was so dominant as a Bruin that the dunk shot was banned for a decade in college because of him.
Video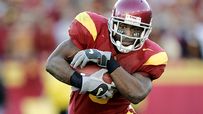 Who are some of the more overrated players in L.A. history. No. 5 at USC came up in the debate. Watch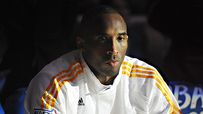 Which current cast of players and icons who should considered as soon as they retire? Watch

Photo gallery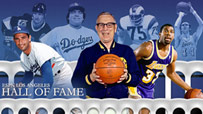 Check out the 20 candidates for the
ESPN Los Angeles of Fame: Gallery

He still holds or shares eight individual records at UCLA, including most points in a single game (61), and his name is synonymous with the university's legacy as the pre-eminent basketball program in America.
From Pauley Pavilion, he would go on to enjoy the most prolific career in NBA history, becoming at the time of his retirement the league's all-time leader in points scored (and still is), games played, minutes played, field goals made, field goals attempted, blocked shots and defensive rebounds. He won six NBA championships (five with the Lakers) and six league MVPs (three with the Lakers), and he played in 19 All-Star Games.
But for all his seemingly effortless accomplishments on the court, he has, over the years, struggled to find a comfort level off the court, and as a result there has always seemed to be a certain tension at the heart of Abdul-Jabbar's feelings for the public and the public's feelings for Abdul-Jabbar.
Many athletes avoid interacting with fans and distance themselves from the media. Abdul-Jabbar has guarded his privacy more determinedly than most, and is seen by some fans and members of the media as unapproachable.
He arrived on the UCLA campus as Lew Alcindor during the height of the U.S. civil rights struggle in the late 1960s. As a 7-foot-2 African-American superstar, who would later change his name and become a practitioner of the Islamic faith, he seemed always to be the center of attention. Perhaps it was only natural for Abdul-Jabbar to want to retreat from the spotlight and keep to himself over the years.
He is a complicated intellectual who by his own admission has had a difficult time creating and sustaining relationships in the game he dominated as a player for three decades. Each time he takes a step forward as a coach, scout or spokesperson, he often seems to soon take a step back.
Abdul-Jabbar has in recent years attempted to rehabilitate his off-the-court image. He smiles when he is shown on the video screen at Lakers games and waves at fans from a distance as they chant his name. He also does radio interviews and television commercials from time to time.
But while recently promoting his new film, "On the Shoulders of Giants," a highly regarded documentary about basketball and the Harlem Renaissance, he publicly took the Lakers to task for not honoring him with a statue outside Staples Center, as they have done with Magic Johnson, Jerry West and broadcaster Chick Hearn.
Time heals, but episodes like this serve as reminders of past history, too. It will be interesting to see whether Hall of Fame voters will choose to judge Abdul-Jabbar by his accomplishments on the court or by his behavior off of it.
He's a compelling candidate and, as you'll see in our panel discussions, a source of spirited debate for this first class of the ESPNLA Hall of Fame. The combination of his talent and his public perception seem to at once command respect and inspire ambivalence on the part of so many who have followed his outstanding career.