I've been asked to determine which of our five inaugural ESPN Hall of Fame classes is the best. Later, I'll be available to pick which Humane Society puppy you should choose, which winning Lotto ticket you should keep and which supermodel you should date.
Really? Pick the best Hall of Fame class between Dallas, New York, Chicago, Los Angeles and Boston? I'd rather try to split the atom while wearing a pair of mittens.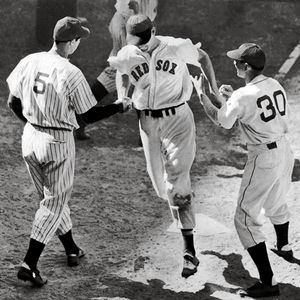 ESPNSelecting the best Hall of Fame class from among five legendary sports cities is an embarrassment of riches, like determing who was better, Ted Williams (touching home during the 1941 All-Star Game) or Joe DiMaggio (congratulating him on the left).

This is an impossible assignment. It was hard enough to pick five finalists for the Chicago Hall of Fame. Now they want me to distinguish between different shades of perfection? Thanks.
So before I begin, remember, there are no wrong answers in this exercise. Also, I do this under protest and under the assumption that nobody can track me down at my house in ... uh, Pierre, S.D.
I've chosen a tournament format, complete with seedings and a bye. You'll have to trust me on this, but I've written down the names of the cities and put five numbers into an OU baseball cap. I will now pull a number -- blind draw, of course -- with a name.
(Pause for selection. My dog Oskie is the witness.)
And now your first-round matchups:
No. 5-seed Chicago vs. No. 2-seed Dallas.
No. 3-seed New York vs. No. 4-seed Los Angeles.
Boston gets the No. 1 seed and the bye.
And, to be clear, the HOF ballots were composed of non-active sports figures.
Chicago vs. Dallas
OK, if it were a meal, Chicago's top five would be a 47-ounce rib eye. Look at these names (in order of most votes by reader selection): Michael Jordan, Walter Payton, Ernie Banks, Mike Ditka and Dick Butkus.
All you need to know about the quality of this list is that George Halas, Red Grange, Gale Sayers, Ron Santo, Luke Appling, Bobby Hull, Stan Mikita, Frank Thomas and Phil Jackson, among many others, couldn't crack it. Think about that for a moment: Papa Bear himself, Halas, who helped found the NFL, couldn't get into the Chicago top five. Tough crowd.
The Dallas list isn't exactly a slacker. You've got Nolan Ryan, Emmitt Smith, Tom Landry, Troy Aikman and Roger Staubach. Momma, let your babies group up to be Cowboys. Or Rangers.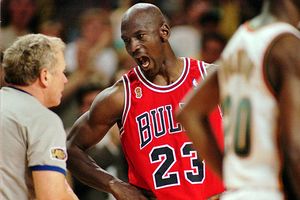 ESPNMichael Jordan speaks volumes in this matchup and helps tilt the scales in Chicago's favor.

But wait? No Sammy Baugh, Doak Walker or Davey O'Brien? No Don Meredith, Bob Lilly, Jerry Jones, Jimmy Johnson, Tony Dorsett or Tex Schramm? No Byron Nelson, Lee Trevino or Ben Hogan? No Michael Johnson or Rolando Blackman?
I used to live in Dallas. I know what those five Dallas inductees mean to the Metroplex and beyond. High legend factor.
But there's nobody on the Dallas list that can rival MJ. He's worth two Dallas names -- and that's a compliment to the Dallas list.
Smith gets the nod over Sweetness, but just a nod. After all, Payton is No. 2 on the NFL's all-time rushing yards and rushing attempts list, but Smith is No. 1.
Landry won more Super Bowls than Ditka, but Ditka was -- and still is -- bigger than life.
Aikman is my pick over Banks, but it's like comparing apples to tomatoes. And Banks was born in Dallas.
Butkus and Staubach are almost a push. Almost. Butkus gets my vote.
I love the Von Ryan Express, but Nolan only spent five of his 27 big league seasons as a Rangers player. But, OK, he's now the team CEO and president. Still ...
Chicago advances.
New York vs. Los Angeles
The New York vs. L.A. matchup is the Ali-Frazier of HOF battles. I'm actually thinking of putting the next few paragraphs of the column on pay-per-view or selling seats on StubHub!
New York's starting five: Babe Ruth (pause for shivers), Joe DiMaggio, Lou Gehrig, Mickey Mantle and Jackie Robinson.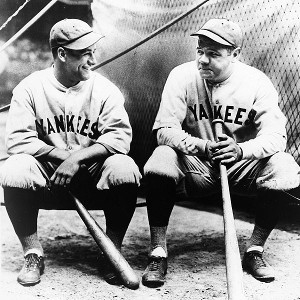 ESPNIt's difficult to deny the dynamic duo of Babe Ruth and Lou Gehrig and their Cooperstown brethen in New York's classic class.

I look at that list and I'm strangely not offended that no Knick, Met, Jet, Giant, Ranger, Islander or St. John's alum is anywhere to be found. That means Joe Namath, Lawrence Taylor, Mike Tyson, Yogi Berra, Walt Frazier, George Steinbrenner, Tom Seaver, Mark Messier and Casey Stengel are alternates. Amazing.
In short, the New York voters raided a wing of Cooperstown.
So I'm thinking this matchup is done before it starts. Then I look at the Los Angeles five: Magic Johnson, John Wooden, Kareem Abdul-Jabbar, Wayne Gretzky and Sandy Koufax.
Like many of you who have lived in Southern California, I'm shocked by the omission of one the great L.A. sports figures. I'm referring, of course, to Frank McCourt.
Wait. Sorry. That's the Worst Owners Hall of Fame. My bad.
Anyway, L.A. muscled up here. That list is so strong that Eric Dickerson, Bill Walton, John Robinson, John McKay, Cheryl Miller, Elgin Baylor, Pete Sampras, Chick Hearn, Janet Evans, Fernando Valenzuela, Deacon Jones, Jackie Joyner-Kersee, Tommy Lasorda, O.J. Simpson and a four-sport star at UCLA named Jackie Robinson have to wait in line.
This was a lot closer than you think. In the end, I used local longevity as the tiebreaker. It's sort of the weeny way out, but I couldn't think of anything better. So nothing against The Great One, but he made his hockey bones in Edmonton, not L.A.
New York advances.
Chicago vs. Boston
Based on seedings, I've got Chicago vs. Boston, with the winner facing New York. I'd rather take a calculus test or eat my sister-in-law's cooking than choose between the Chicago and Boston lists.
First of all, the Boston voters got it right. Their five are Larry Bird, Ted Williams, Bill Russell, Bobby Orr and Red Auerbach.
I can't argue with any of those, but look who didn't make it: Doug Flutie, Bob Cousy, Cam Neely, Milt Schmidt, Joan Benoit Samuelson, Carl Yastrzemski and Cy Young.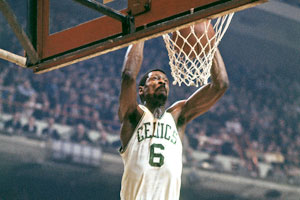 ESPNMichael Jordan vs. Bill Russell, above, was big in the HOFs battle between Chicago and Boston, and the Celtics great gets the nod.

In the interest of full disclosure, I live in the Chicago area, married a South Sider and have covered or interviewed everybody on the Chicago HOF list with the exception of Butkus.
But I've only stolen one thing in my adult life: a metal nut from the old Boston Garden parquet floor. I swiped it after covering "Larry Bird Night." And, yes, I'm willing to go to prison for it.
Bird and Magic were my favorites. Always have been, always will be.
So this is going to be tough. It's like asking me which of my daughters I love more. It's an unanswerable question.
Russell and Jordan are playing equals, but do you give the edge to Russell because he was the first African-American head coach in NBA history? Because he was active in civil rights? Because he won more championships than MJ?
The answer is yes.
Williams and Banks never won a World Series, but they became icons nonetheless. But Williams hit more home runs and had more RBIs than Banks in nearly 3,000 less at-bats. Williams won two Triple Crowns. Williams's career batting average (.344) is 70 points higher than that of Banks.
Advantage, Teddy Ballgame.
Bird and Butkus played hurt, played ferociously and played in ways that had never been seen before or perhaps since. I didn't include Butkus in the top five spots of my original Chicago selections, but the more I consider his career, the more I realize I probably screwed that one up. I apologize.
That said, Bird won championships and Butkus didn't. Butkus wasn't the reason the Bears failed to win, but Bird was the reason the Celtics did win. That matters.
As much as I'm crazy about Da Coach, I have to give the edge to Da Cigar. Ditka also played the game he coached, but Auerbach helped redefine his sport.
Orr was one of the three greatest hockey players in the history of the game. I can make the same case for Sweetness and the NFL. Call it a draw.
Boston takes it.
Boston vs. New York
You knew it was going to come down to this: New York and Boston. And did I mention that there are no wrong answers in these comparisons?
Ruth is the greatest player in the history of baseball. End of argument. But six of his 22 seasons were spent with the Red Sox, where he won 89 games as a starting pitcher and hit 49 of his career 714 home runs. Don't get me wrong: Ruth's a Yankee but nearly a third of his career was spent in a Red Sox uni.
Gehrig was as New York as the Empire State Building. And Cal Ripken can tell you what kind of ballplayer he must have been.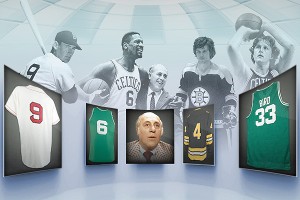 ESPNIn the end, it is the greater sports diversity of the Boston Hall of Fame class that proves the difference.

Mantle, even with his assortment of crippling injuries, was transcendent. Same with Joltin' Joe.
You can't even begin to quantify the impact of Jackie Robinson breaking baseball's color barrier. But should he have been on the L.A. list or the New York list? Just asking.
Anyway, Ruth, Gehrig, Mantle and Robinson have had movies made about them. And Simon and Garfunkel included DiMaggio in "Mrs. Robinson." The Boston Five can't match that.
But in some ways, Russell was the Robinson of the NBA. Jackie helped make what Russell did possible, but Russell paved the way for future generations himself. And if you have a few hours, you can marvel at his list of hoops accomplishments.
Gehrig and Bird remind me a little of each other. They combined extraordinary talent with extraordinary will. Gehrig's career was undone by a disease that bears his name. Bird's career was ended by debilitating injuries. You don't put them on the lists because of their numbers or championships, but because they had something indefinable.
Mantle and Orr accomplished so much, but they could have done even more had knee injuries not affected their careers.
How do you compare DiMaggio and Auerbach? You can't. DiMaggio was baseball elegance. Auerbach was Celtics green and victory cigars. They were singular. I won't even attempt to separate the two.
But I choose Boston over New York for no other reason than greatness spread over three sports compared to one. I'm not saying Boston's inaugural class is necessarily better than New York's, but simply more diverse in its accomplishments. So there.
And now I return to my day job -- choosing Miss Universe candidates.