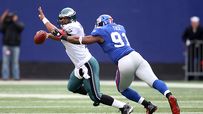 Tuck had a career-high 12 sacks in 2008.
Welcome to SportsNation! On Friday, we're going to help launch ESPNNewYork.com with the style befitting the Big Apple when New York Giant Justin Tuck stops by to chat.
In five years in the NFL, Tuck has quickly established himself as a dominant pass rusher in the league. He has 29 career sacks, despite not playing most of 2006 due to injuries.
Tuck will be hosting a celebrity billiards event June 3 to benefit Tuck's child literacy charity. To date, Tuck's organization has donated over 17,500 books and raised over $300,000.
Send your questions now and join Tuck Tuesday at 3 p.m. ET!
More Special Guests: Previous chats | SportsNation
Buzzmaster
(3:02 PM)
Justin's here!
Greg (Maine)
Justin, Where are you more comfortable...inside or on end?
Justin Tuck
(3:02 PM)
Actually, both. I'm comfortable playing both. I'm more of a DE, but being able to go inside is just another attribute that makes me more versatile.
Dan (CA)
Wats up Justin, how do you feel about playing in a brand new stadium?
Justin Tuck
(3:03 PM)
I'm excited about it. It's a state of the art stadium. I know our fans will come out and support us. We made so many memories in the old stadium that we want to make some new ones in the stadium.
Anthony (Staten Island)
Justin. Big fan. My pops is a long time Giants fan, and he wants to know how your shoulder and your knees are doing. Hope all is well bud.
Justin Tuck
(3:04 PM)
They're feeling good. I'm back to the same range of motion. I should be good come training camp.
Scott (New York)
What's the most important element on the defensive end to regain from the Super Bowl form as opposed to last year?
Justin Tuck
(3:05 PM)
I would say stay healthy. We had a lot of injuries last year. We need to be on the same page. Hit the class together, get on the same page. We have the talent, but the combination of being hurt and not being on the same page really hurt us.
Brad (Gadsden,Alabama)
Justin, Do you have any pre-game rituals?
Justin Tuck
(3:06 PM)
Not really. I just try to be laid back. Before a game, I try to listen to music that are like Phil Collins. Nothing too heavy or loud.
Jason C (Michigan)
Have you talked to K.Phillips hows he doing coming back from the injury
Justin Tuck
(3:06 PM)
He's doing well. He's been in our facility ever since he had the injury. The first test is when we do the training camp and we see how he cuts on it. But he's doing well so far.
Dave (Rhode Island)
Do you think people are going to overlook you next year coming off a disappointing season and does your team relish that role?
Justin Tuck
(3:07 PM)
I definitley hope people overlook us.
Andy (VT)
Hey Justin, watching you on the field last year, you did not look like the dominant player us giants fans know and love. Were you hurting last year? and how are you feeling now?
Justin Tuck
(3:09 PM)
I played hurt for a good part. But I don't make any excuses. You just try to go out there and get the job done. Obviously, I wasn't 100%, but you just try to get the job done. But I'm not making any excuses.
David (Florida)
Hi Justin.How do you like your teams chances for the playoffs?
Justin Tuck
(3:09 PM)
I like them a lot. If I were a betting man, I would bet on the red, white and blue.
Matt (New Jersey)
Justin, have you met with Perry Fewell yet and what do you think he can bring to the Giant's defense?
Justin Tuck
(3:09 PM)
I have met with Mr. Fewell. The biggest thing he brings to the Giants is a new and fresh attitude. He basically brings in a new attitude, an exciting one and guys are responding to that.
Jeff Harbinson (Raleigh NC)
Were you sad to hear about Flozell's retirement? I am sure you wanted to take the field against him atleast one more time.....
Justin Tuck
(3:11 PM)
I know he got cut but I didn't know he retired. I looked forward to lining up against him again.
Cris (NJ)
Hi Justin. With the Jets having so much success last season, do you feel that the Giants have taken a backseat to them this year?
Justin Tuck
(3:11 PM)
Absolutely not.
Justin (Washington DC)
Mr. Tuck,Who would you like to see the Giants draft two weeks from now.Thanks
Justin Tuck
(3:12 PM)
In previous years, I would have made a statement, but I won't. Jerry Reese has done a great job of drafting talent these last couple of years. We know he's going to do an excellent job. I think we just are going to see what happens on draft day. Whatever he does, he's going to make the right choice.
Ben (Boston)
Who were the players that you looked up to growing up?
Justin Tuck
(3:14 PM)
There are so many. I'm a huge Mike Singletary fan. LT, Derrick Thomas, Reggie White. In my later years, Michael Strahan. Mostly defensive players. I would say those guys that I studied. I liked how they prepared themselves to play football. A huge Ronnie Lott fan too.
Jason (Wayne, PA)
Hey Justin, as a Notre Dame alumni, how do you think Brian Kelly will adjust to being the highest profile coach in college football?
Justin Tuck
(3:15 PM)
It seems to me that he is down to earth about being the Notre Dame football coach. The last couple of coaches that we had, it seems like it got to them that it was the Notre Dame job. I think he'll try to stay away from the media. From what I've heard, the players have already built a bond with him. I'm excited.
Ryan (Germantown, MD)
What do you think of McNabb being a Redskin?
Justin Tuck
(3:16 PM)
I will just say this. I wouldn't have done that. But I don't get paid to make those decisions. I was hoping that we wouldn't have to face him twice again this year. But it was a good trade for the Redskins. They got a franchise QB. It will also be good for Philadelphia. They had a few QBs to choose from. We'll see what happens.
Stat Matt (Jersey)
what has it been like working out with new Giants, Antrel Rolle and Deon Grant?
Justin Tuck
(3:17 PM)
It's been fun. I haven't had a chance to work out with Grant yet, but Antrel's been there every day. Antrel and I already knew each other before he came here. I'm excited about it. He helps our secondary out a lot. I'm looking forward to it.
Justin Tuck
(3:17 PM)
I appreciate the support. Hopefully this year, we'll make you proud of us again. God bless. Go Giants!