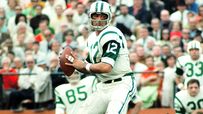 Namath was drafted No. 1 overall in the AFL draft in 1965.
Welcome to SportsNation! On Wednesday, to help celebrate the new ESPNNewYork.com, we have former New York Jet Joe Namath stopping by to chat.
Namath is probably best remembered for making good on his guarantee of victory over the heavily favored Baltimore Colts in Super Bowl III. Namath was named AFL player of the year following that 1968 season, which was just his fourth year in the league.
Namath threw for over 3,000 yards three times in his first four years in the AFL, including being the first to throw for more than 4,000 yards. For his career, he had 27,663 passing yards and 173 passing TDs.
Fans can follow him on both his Facebook page as well as his Twitter feed: @RealJoeNamath.
Send your questions now and join Namath Wednesday at noon ET!
More Special Guests: Namath on Facebook | @RealJoeNamath | Previous chats | SportsNation