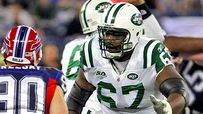 Woody is a 12-year veteran out of Boston College.
Welcome to SportsNation and ESPNNewYork.com! On Tuesday, we will have New York Jet Damien Woody stopping by to chat some NFL.
In just two seasons with the Jets, Woody has made a big impact on the team's running game. After finishing 19th in the league in rushing in 2007, the Jets finished ninth in 2008 and first last year.
The two-time Super Bowl champion entered the league as the 17th overall pick by the New England Patriots in the 1999 draft. In 2004 he went to the Lions and in 2009 he signed with the Jets.
Fans can follow Woody via his web page: DamienWoody.com, Twitter feed: @damienwoody or on his Sirius XM radio show on NFL Radio (channel 124) Tuesday's from 8-11 p.m. ET.
Send your questions now and join Woody Tuesday at 1 p.m. ET!
More Special Guests: Previous chats | SportsNation
Buzzmaster
(12:58 PM)
New York Jets' Damien Woody will be here at the top of the hour to take your questions!
Buzzmaster
(1:02 PM)
Damien is here!
Anthony (Cappuccino)
How ya doing Damien? Quick question: How much do you and the offensive line miss TJ?
Damien Woody
(1:03 PM)
I think definitely TJ will be missed. His production and what he brought to the table as far as being a leader. But I've been saying all offseason, it's a business. These things happen. He'll move on. We have LT, Greene and Leon. We have to move forward.
Kevin (MD)
What do you think will be the key to a successful season for you guys this year?
Damien Woody
(1:03 PM)
I think it's going to be more of the same of what we did last year. Every individual on the team needs to get a little bit better. We got to the AFC title game last year. Our whole focus this offseason is for each person to get that much better and hopefully that will get us into the Super Bowl.
Phil (NYC)
Damien, how do you like doing your radio show? Is it different than anything else you've ever done?
Damien Woody
(1:04 PM)
I've done radio before, but this is a unique opportunity doing it at Sirius. It's a broader scale, it's a national scale. I'm able to talk to people all over the country. That's pretty exciting to me.
Dom (UK)
Although it must have been great getting the Championship game, was it hard to get so far but not actually win?
Damien Woody
(1:05 PM)
I always say, that's the hardest game to lose. You're right there. The Super Bowl is right there for you and you come up short. It was definitely a gut wrenching loss for the whole team.
Brad (Gadsden,Alabama)
Damien, Do you have any pre-game rituals?
Damien Woody
(1:06 PM)
Nothing in particular. I just like to listen to a lot of music and make some noise in the lockerroom to get myself pumped up. Maybe get on some guys' nerves a little bit.
MyNJJets (Florham Park, NJ)
Which one of your current Teammates would go on Dancing With The Stars? :)
Damien Woody
(1:06 PM)
(laughs) Oh, wow. Which one?...I don't know which one, but definitely not LT, because of that dance he did in his video. Definitely not him.
jake (indy)
Damien, how many more years you got in ya?
Damien Woody
(1:07 PM)
I don't know. I don't have a particular number in my mind. I'm going to keep playing until my desire to play isn't where I want it to be or my health breaks down to the level where I don't want to.
Chris Fiegler (Latham,NY)
Do you think that you will like playing at the New Meadowland Stadium better than Giants Stadium?
Damien Woody
(1:08 PM)
First of all, I don't have to look at the Giants Stadium sign every time I drive up. That's a plus. It will be like a new car, it will have the new car smell. The fans will be rocking. The whole team will be looking forward to it.
Jake (Syracuse)
Whats your favorite position to play on the OLine, since you can play them all?
Damien Woody
(1:09 PM)
I love them all. But to be honest, I like my current position. To go against the "better athletes" at DE and trying to shut them down. I like that challenge.
Jon E (Charleston, SC)
This is your 3rd year with these guys on the OLine. Is this the best chemistry you've had on a Line? And do you prefer tackle over guard and even center?
Damien Woody
(1:09 PM)
By far, the best chemistry. The best line I've played with period. What we have is something special and something you don't see very often. It's great being able to play with the guys we have.
Brandon ( Florida)
Hey Damien, was duke your final four pick?
Damien Woody
(1:10 PM)
I hate Duke. I hate them with a passion. They were not my pick. I had West Virginia.
Frank (Dallas)
Who has been the toughest guy for you to block in the trenches?
Damien Woody
(1:11 PM)
I thought Robert Mathis was a tough one. He's so fast off the edge and he's stronger than what he appears on the field.
Jon E (Charleston, SC)
What is going on with the new hair "design?"
Damien Woody
(1:11 PM)
I'm just trying to change it up a little bit. Staying fresh and current on what's going on in the world today.
Jake (Syracuse)
Do you like the Donahue hire at BC?
Damien Woody
(1:12 PM)
I do like it. Judging by Cornell and the way they played his coaching style will fit with the athletes we bring in at BC. I think it was a good hire.
Awayne (INDY)
Everybody says O-lineman love to run block,does that make the Jets job even better for o-lineman?
Damien Woody
(1:12 PM)
There's no question. We have a lot of opportunities to have fun on the field. Playing in this system allows you to be aggressive.
KNISH (NYC)
How do most Jets feel about being 2nd fiddle to the G-MEN
Damien Woody
(1:13 PM)
Sometimes it's almost like a slap in the face. AS players we don't feel like we're second fiddle to anybody. We feel like we're not going to play second fiddle to any team.
Adam (Fredericksburg, Texas)
How do you feel about the Giants opening in the new stadium instead of yall?
Damien Woody
(1:14 PM)
It's not a problem. We have a great situation. The commissioner did a great job of helping out both teams. There's nothing wrong with opening up on Monday night with a new stadium.
Jon E (Charleston, SC)
You have to follow the draft like any other sports fanatic. What are you hoping for as far as the Jets picks
Damien Woody
(1:15 PM)
My expectations are that whoever we choose will help us out. We'll be adding another piece to the team. Someone else to come in and help the team win.
Damien Woody
(1:16 PM)
I just want to tell everybody to check out my radio show on Sirius Radio show tonight from 8-11 ET on NFL Radio.
Buzzmaster
(1:16 PM)
Thanks for chatting Damien!