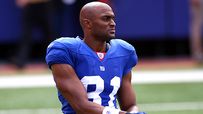 Toomer will run in his first marathon in November.
Welcome to SportsNation! On Wednesday, former New York Giant Amani Toomer stops by to chat some football as well as his attempt at running the 2010 New York City Marathon.
Toomer played 13 seasons in the NFL, all with the Giants, after New York selected him with the 34th overall pick in the 1996 draft. Toomer helped the Giants win Super Bowl XLII over the New England Patriots and caught 54 touchdown passes during his career.
Toomer will be running in the 2010 New York City Marathon on November 7 in support of the New York Road Runner's Foundation's youth programs. He will start last and for each runner he passes, TIMEX will donate $1 to the charity. To help him prepare and track his progress, Toomer will be training with the new TIMEX GPS watch, the Global Trainer.
Send your questions now and join Toomer Wednesday at 3 p.m. ET!
More Special Guests: Previous chats | SportsNation