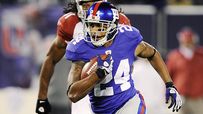 Thomas played collegiately at USC.
Welcome to SportsNation! On Friday, we will prepare for NFL training camp when New York Giant Terrell Thomas stops by to chat.
Thomas, a USC product, just finished his second year in the NFL. As a second round pick in the 2008 draft, he had a productive sophomore year in the league. He made 85 tackles, while starting all 16 games and picking off five passes.
Send your questions now and join Thomas Friday at 4:30 p.m. ET!
More Special Guests: Previous chats | SportsNation
Terrell Thomas
(4:32 PM)
Thanks everybody for tuning in. Fire away!
B (NC)
TT! Congratulations on being the most consistent performer on the 2009 Giants defense. Which NFL WR is the hardest to cover? How about in the NFC East?
Terrell Thomas
(4:33 PM)
In the NFC East, I would have to go with Miles Austion as of right now. He's very strong up and coming player that will only get metter. As far as the entire league, I'll have to say Larry Fitzgerald.
James Clouse (New Jersey)
Hey Tduece, I believe you were the MVP on the Giants defense last year, any new training to keep that title?
Terrell Thomas
(4:34 PM)
Really just worked on my hips. Getting more explosive so I can turn and run with the smaller wide receiver. My goal it to cover the best receiver on the opposing team and improving my overall game.
vic (los angeles)
whats the main difference between fewell and sheridan youve seen so far? what makes you confident that this defense can be the scary defense we expected last year?
Terrell Thomas
(4:36 PM)
I think Sheridan is more laid back. He instilled his trust in his players and allowed us to do what we do. Fewell is more energetic and in your face but also laid back. I'm excited to see what we can do this season under Coach Fewell.
Harold (Jersey)
How much does Antonio Pierces retirement affect the Defense this upcoming season?
Terrell Thomas
(4:38 PM)
We lost a great leader. It was hard to replace him during the season but we have players stepping up and players coming in through offseason that should be able to fill his role. AP is a great player and a great leader. He'll be missed on and off the field.
Chris Fiegler (Latham,NY)
What is the Best & The Worst NFL Stadium that you Played at?
Terrell Thomas
(4:39 PM)
The best stadium is the new Giants Stadium; I can't wait to play there. The worst has to be Minnesota and Philadelphia. They are both so old and need to be re done.
Adam Morrow (River Vale)
How does it feel playing on the field at the New Giants Stadium? Better or Worse than the field at Giants Stadium?
Terrell Thomas
(4:40 PM)
It's definely a lot better. I know the Giants put a lot of money into this new stadium and I can't wait to play there.
zambo (new york)
Hey Terrell, you have really started to come into your own, and im expecting a big year from you and the defense, how do you feel about the defense bouncing back this year?
Terrell Thomas
(4:42 PM)
I defiantly think the front office did a great job filling the gaps this offseason. I don't think we had any injuries coming out of OTA's and being healthy is always a good thing. I think we will be back to the Giants defense of the past this season. Good things ahead.
Ricky (Austin)
What do you consider your strengths on the field and what will keep you there as the Giants starter this year?
Terrell Thomas
(4:43 PM)
I would say my mental ability. I think I'm a very smart player on the field. I try to think things before they happen. Another strength is my length.
James Clouse (New Jersey)
Any WR your excited to cover this upcoming season?
Terrell Thomas
(4:44 PM)
Andre Johnson and Reggie Wayne. They are both back-to-back Pro Bowlers and enlite wide receivers.
Greg (New York)
Do you think the redskins will be a threat for 1st with the additions of McNabb and Shanahan?
Terrell Thomas
(4:45 PM)
We shall see. They look good on paper but so do a lot of teams. We were the paper champs last season but we ended up 8-8.
Nathan (Missouri)
Terrell, what does the addition on Antrel Rolle mean to you?
Terrell Thomas
(4:46 PM)
He is a proven leader and a winner. It allows us to be a lot more aggressive on defense especially with everyone back healthy.
Nick (NJ)
Are u excited about Madden 2011, Should be great to have yourself in it, thanks
Terrell Thomas
(4:47 PM)
I've been in it the last three years so it's nothing new to me. The only thing that ticked me off is that they gave me a 77 rating. I think my number from last season deserve a higher rating but hey, that's Madden for you.
Terrell Thomas
(4:50 PM)
Thanks everybody for tuning in. I appreciate all the great questions. Continue to support the Giants. We are sure to have a great season as everything is coming together. Stay tuned!