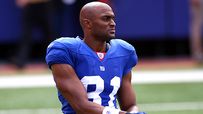 Toomer will run in his first marathon in November.
Welcome to SportsNation! On Friday, former New York Giant Amani Toomer stops by to chat some football as well as his attempt at running the 2010 New York City Marathon.
Toomer played 13 seasons in the NFL, all with the Giants, after New York selected him with the 34th overall pick in the 1996 draft. Toomer helped the Giants win Super Bowl XLII over the New England Patriots and caught 54 touchdown passes during his career.
Toomer will be running in the 2010 New York City Marathon on November 7 in support of the New York Road Runner's Foundation's youth programs. He will start last and for each runner he passes, TIMEX will donate $1 to the charity. To help him prepare and track his progress, Toomer will be training with the new TIMEX GPS watch, the Global Trainer.
Send your questions now and join Toomer Friday at 12:20 p.m. ET!
More Special Guests: Previous chats | SportsNation
Buzzmaster
(12:14 PM)
Amani Toomer will be here in a few minutes to take your questions!
Buzzmaster
(12:19 PM)
Amani is here!
rob (new york)
How did you train for the marathon? How was it different from training for the football season?
Amani Toomer
(12:21 PM)
I've been training for the last 6 months. Training is a lot easier than football in the sense that you don't have to worry about the contact. The technique is different, running on your heels versus running on your toes. Also, I've been working with Timex and their technology. I've been working with a trainer so I don't hurt myself.
Kevin (Toms River, NJ)
Thanks for all the memories as a Giant! Do you see any coaching for yourself in the future?
Amani Toomer
(12:22 PM)
No, I don't see myself as a coach. I was a rookie and I know how little I cared about the team and the coaches. And coaches rely on players for their livlihood, but the young players don't understand that. I want my livlihood in my hands.
Russ (Boston, MA)
Amani, I'm a big fan. When are you coming to run the Boston Marathon? I hear it's a little tougher.
Amani Toomer
(12:23 PM)
I think for me to qualify for Boston, I'd have to run 3:10. That's a great day for me, but I don't know if I can get that. I think running will be a part of what I do to stay in shape. I've enjoyed my experience with that marathon.
Dave (NJ)
I am running the NYC marathon too. How will I know when you pass me?
Amani Toomer
(12:24 PM)
I'm going to be wearing a red Timex shirt. I think there will be someone following me in a motorcycle. So if you see a motorcycle following someone then it might be me.
Duke (New Jersey)
Amani, I am long time runner, and I was excited to hear that you are running in the NY Marathon, how is the training coming and what type of time do you see yourself running? what goals have you set for it?
Amani Toomer
(12:24 PM)
The training's been great. There has been a lot of support from Timex and their GPS watch. I plan on getting under 4 hours. That's my goal time.
Rachel (Hattiesburg)
Hi Amani, who was the toughest corner for you to play against? Thanks!
Amani Toomer
(12:25 PM)
It was definitely Deion Sanders in his prime, my first couple of years in the league. He was intimidating because he was faster than anyone and he knew it. He shut down an entire side of the field. If you were on his side, you knew that you were going to work the other side of the field.
Eric (New York)
Amani where can I donate a dollar to your charity, because you are not passing me on Sunday.
Amani Toomer
(12:26 PM)
Those are pretty big words. It's the New York Runners Youth program.
Matt (DC)
Amani, what do you think of the Giants offense this year? What do you think of all the tipped interceptions this season?
Amani Toomer
(12:27 PM)
I think it's a combination of high throws and poor catching. But for the most part that the WRs have been doing a good job. I'm excited to see how this team does down the stretch. Any time a defense is playing as well as they are, they'll be a tough out, a tough team for the NFC East to deal with.
Duke (NJ)
What do you think of the WR group on the Giants right now?
Amani Toomer
(12:28 PM)
I like them. I like them a lot. They have a lot of talent, a lot of young talent. Hopefully they'll keep getting better and progressing. Nicks stands out as a good player. And once he gets his route running down and with his ability to run after the catch, he could be one of the best WRs in the league.
Brian F (San Diego)
Amani, I grew up in Bergen County and enjoyed watching you play for the Giants. How long have you been training for the marathon. Good luck!
Amani Toomer
(12:29 PM)
I thought about doing this 7-8 months ago when the opportunity came for me to run it. Timex was looking for a former Giant player to run and the Giants knew I was a runner. I was able to get my competitive juices going to train, but also we're doing it for a good cause as well.
Megatron (Detroit)
I'm the best receiver in the game today, right?
Amani Toomer
(12:30 PM)
I don't know. I think there are a lot of guys that are established that have done more in the league. He's a talent. I don't think you just give that label to someone without having done something to warrant it. He's having a good year, but I think there are other guys that have done more.
Jason (Philly)
Do you expect to beat the Chilean Miner?
Amani Toomer
(12:31 PM)
I don't know. He's starting first and I'm starting last. I don't know. That's a good question. Hopefully I'll beat him.
Brandon (Minnesota)
Amani, how much do you miss football? Could you still play if you wanted to?
Amani Toomer
(12:32 PM)
I think I could still play. I just don't think that there's a real market for a 36 year old WR that's been out for two years. But I like what I'm doing now, working for the Big Ten Network and the Giants wrap up show. My life is really different now. I miss the fact that I don't have the game day. Other than that, I'm really content with my life. I played a lot of years in the NFL and I really enjoyed all of them.
Brian (NC)
Amani, what was your best moment with the Giants? How about the worst?
Amani Toomer
(12:33 PM)
I've had a lot of great ones. Probably the game winning catch against the Broncos. Leading up to that year, I was considered a bust, but after that, I think they started to respect me as a player. That was probably my favorite play.
Ben (seattle)
Amani, how much of an impact do you think randy moss will have with the titans?
Amani Toomer
(12:34 PM)
I think the reason why he's bouncing around is the fact that he's getting old. Put it this way, a couple of years ago, there's no way a team would let go of Randy Moss, let alone two teams in two months. Obviously, there's something with his ability that they don't feel they have to put up with his off the field personality issues.
Amani Toomer
(12:35 PM)
To all my fans that follow me on Facebook, I appreciate your support. I'm happy that I'm able to run this marathon. I thank Timex for helping me and everything they've done to get me into the marathon. I really want to enjoy this day in New York City when everyone comes out to support the runners.