Chat with Cappie Pondexter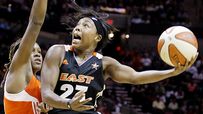 Pondexter was named one of the WNBA's top 15 players of all-time during this year's all-star break.
Welcome to SportsNation! On Wednesday, WNBA star Cappie Pondexter of the New York Liberty stops by to chat about the final month of the league's regular season.
With a 17.1 points per game scoring average, Pondexter leads the Liberty in scoring and is sixth in the league. She is also seventh in the league with a 4.8 assists per game average. With 13 games left in the season, Pondexter has helped New York to third place in the Eastern Conference.
Send your questions now and join Pondexter Wednesday at 2 p.m. ET!
More Special Guests: Previous chats | SportsNation
Buzzmaster
(1:55 PM)
Cappie is here!
Mary (New Jersey)
In your opinion, what will be the most important focus or component for the team in the last month of the regular season and into the playoffs in order to bring home a championship this season?
Cappie Pondexter
(1:56 PM)
Just continue to get better offensively and defensively. Remain as a close unit and win basketball games.
octavia (GA )
If you wasnt playing basketball what would you be doing instead?
Cappie Pondexter
(1:56 PM)
I would be working at my image consulting company at www.4SeasonsStyleManagement.com
Team Fenom (Georgia)
In just six seasons you?re off to a phenomenal career. Congratulations on being named one of the WNBA?s top 15 players of all-time! What does the accomplishment mean to you and how does it feel to hear legends such as Cynthia Cooper and Teresa Weatherspoon state that they are fans of yours?
Cappie Pondexter
(1:57 PM)
It definitely is a great honor. Being only in my sixth season and being named a top 15 player in WNBA history is a huge accomplishment in itself. And hear people that I was a fan of growing up say they're fans of mine is definitely cool.
Abby (New York, NY)
Hi Cappie...loved watching you at Rutgers and am thrilled that I get to see you in person with the Libs. Overall, is it more exhausting playing the run and gun offense you did in Phoenix or coach Whiz's white line defense?
Cappie Pondexter
(1:58 PM)
They're both the same. Basketball in general is exhausting, especially at the professional level. It doesn't matter if it's run and gun or white line defense, they're both hard.
Emily (Florida)
Whats your favorite part about being in the WNBA?
Cappie Pondexter
(1:59 PM)
My favorite part is getting to travel to all of these cool cities and getting to play in front of all of the fans all across the United States.
Lyrhea (Newark)
The season is almost over. With all the personnel changes made do you personally feel the Liberty has had sufficient time to "gel" as a team and that the rank in the Eastern Conference is about right--all things considered?
Cappie Pondexter
(2:00 PM)
Definitely. We all have the same goal, which is to win a WNBA championship. With that said, when it comes to the playoffs, it's now or never. We have to gel. We can't have any excuses, if we want to win a championship.
Marianne (New Jersey)
Is there any concern that our scoring has been down the past few games.
Cappie Pondexter
(2:01 PM)
No. It's late in the season. It happens like that sometimes because teams are really locked in and focused on the defensive side. You're going to have some low scoring games, depending on the matchups.
Matt (Sandusky, OH)
How were you able to get open enough to score 19 points while being guarded by the Storm's defensive duo of Katie Smith and Tanisha Wright last night?
Cappie Pondexter
(2:01 PM)
A lot of it was in transition. We had a couple of isolations and I was able to free myself up to get some clean looks.
Cappie Pondexter
(2:02 PM)
As well as getting some help from my teammates.
Dave (NJ)
Hey Cappie, Rutgers alum here who used to watch you light up the RAC. Do you still get back to visit CVS and check out the team, maybe grab a boli?
Cappie Pondexter
(2:02 PM)
Occasionally. When I'm in the offseason, I get to go down there and play basketball with the girls. I try to go down there as much as my schedule allows.
gnel (Lake Charles, LA)
Hi cappie i think you are the best one on one player in leauge i really love your game. What's it gonna take for your team to make a deep run into the playoffs? And also are you single?
Cappie Pondexter
(2:03 PM)
We need a total committment to each other. And winning basketball games. We need to want it the most night in, night out.
Brad (Beverly, Ma)
With the NBA in a lockout is there any fear by the WNBA players that your league may be in jeopardy?
Cappie Pondexter
(2:04 PM)
I really don't have a comment about that. I don't know about all of the issues that the NBA has going on, so I prefer not to comment about it.
Cheesehead Sports Nut (@CheeseheadSN)
What is it like playing at home in New York v. some of the other cities you visit on the road?
Cappie Pondexter
(2:05 PM)
It's definitely familiar, playing with two girls I played with at Rutgers. It's a great feeling playing in NYC.
Regine Eexume (Boston, MA)
Have you ever thought about giving up the game of basketball?
Cappie Pondexter
(2:05 PM)
Yeah. I got frustrated probably 2-3 games ago when we were playing against Phoenix. I had a bad shooting night and we didn't get the win. But I've never gotten to the point where I want to give it up. I truly love the game.
david parisi (new york)
who is your toughest team to play against this season?
Cappie Pondexter
(2:06 PM)
The toughest team? It would probably be Connecticut. They're playing really well right now and we've had a lot of matchup problems with them.
Grace (New Jersey)
The white line defense is absolutely unbreakable when run well (4th q vs. Chicago) but we have also seen some major break downs , what is the key to the white line defense?
Cappie Pondexter
(2:07 PM)
The key is being on the white line. That's always key. When we have break downs, that's when we have mistakes defensively. That's basketball. You try to clean it up and not have it happen next time.
Octavia (ga )
Is there a favorite team you like to play against?
Cappie Pondexter
(2:08 PM)
I pretty much like playing against every team. I don't have a particular favorite. I want to beat every team that we play.
Cappie Pondexter
(2:09 PM)
Thanks for the continued support. Follow me on Twitter: @Cappa23.