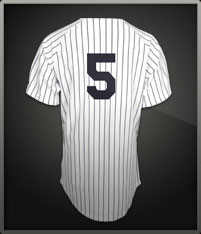 Joe DiMaggio
Yankees (1936-42, 1946-51)
Records are meant to be broken, yes.
But someone is going to have a heckuva time breaking Joe DiMaggio's record of 56 consecutive games with at least one hit, set in 1941.
In baseball history, just six players have had hitting streaks of at least 40 games -- DiMaggio included -- but no one has come close to Joltin' Joe's 56 since Pete Rose hit in 44 straight in 1978.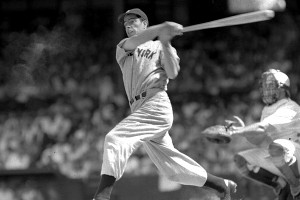 AP Photo
DiMaggio was an All-Star in each of his 13 seasons.
Put it this way: There are many incredible records in professional sports, but DiMaggio's is probably the safest.
(And to think, DiMaggio hit safely in a PCL-record 61 straight games for the minor league San Francisco Seals in 1933.)
While his 56-game hitting streak is what DiMaggio is most remembered for, it didn't define his New York Yankees career -- it only enhanced it.
DiMaggio played his entire 13-year career in pinstripes (1936-42, 1946-51), winning nine World Series titles and three American League MVP awards. His stellar career numbers -- .325 average, 361 homers, 1,537 RBIs -- would have been even greater had he not missed three seasons while serving in World War II.
"The Yankee Clipper," as he was called, also became the first player to sign a $100,000 contract (1949). Can you imagine what Derek Jeter or Alex Rodriguez would do if they heard that? Probably laugh, considering their eight-figure annual salaries.
But generations before Jeter and Rodriguez were dating actresses, DiMaggio became the celebrity of all baseball celebrities when he married Marilyn Monroe. Talk about a power couple. Their marriage, however, didn't last all that long -- 218 days longer than Joe's record hitting streak.
DiMaggio, who was inducted into the Baseball Hall of Fame in 1955, died in 1999 at age 84.
And the streak? It ended on July 17, 1941 ... yet it still lives on.
-- Mike Mazzeo
2011 New York Hall of Fame classmates: Babe Ruth | Lou Gehrig | Mickey Mantle | Jackie Robinson