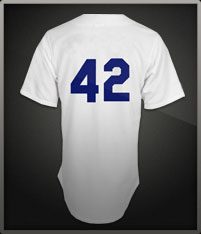 Jackie Robinson
Dodgers (1947-56)
Only one player in Major League Baseball history has had his number retired by every team:
If anyone deserved such a gesture, it was Robinson, No. 42 for the Brooklyn Dodgers and the most socially significant athlete of the 20th century.
Robinson broke baseball's color barrier on April 15, 1947, becoming the first black player to appear in the major leagues since the late 1800s. Robinson dealt with hatred and bigotry -- on and off the field, before and after his big league debut -- always letting his stellar play do the talking.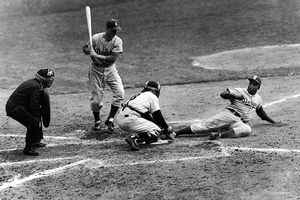 ESPN
Jackie Robinson famously stole home in Game 1 of the 1955 World Series.
Because he was already 28 when he made his debut, Robinson played just 10 seasons. But he made his presence felt.
His greatest asset was his speed, and he used it to his advantage time and time again. He stole home 19 times in his career -- none of which involved a double steal.
Nope. We're talking straight steals.
Robinson's most famous steal of home came in Game 1 of the 1955 World Series, when he somehow managed to avoid Yogi Berra's tag. Or did he?
Doesn't matter. Robinson was called safe, and even though the Yankees won the game, the Dodgers went on to win that World Series. It was Robinson's only championship -- as a ballplayer, that is. He was already a champion for racial equality.
Robinson, a six-time All-Star, finished his career with a .311 average, 1,518 hits and 197 stolen bases. He was National League MVP in 1949, when he batted .342 with 203 hits, 124 RBIs and 37 steals.
Robinson was inducted into the Baseball Hall of Fame in 1962. He died 10 years later, at 53, of a heart attack after battling heart disease and diabetes.
Jackie Robinson was a baseball pioneer, a man who endured abuse in order to pave the way for others.
He will never be mentioned with Babe Ruth, Willie Mays and Hank Aaron in discussions about the best baseball players of all time. But when it comes to contributions that extend beyond the game, Jackie Robinson stands alone.
-- Mike Mazzeo
2011 New York Hall of Fame classmates: Babe Ruth | Lou Gehrig | Joe DiMaggio | Mickey Mantle