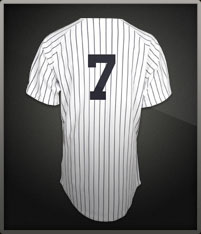 Mickey Mantle
Yankees (1951-68)
Someone had to replace Joe DiMaggio in center field.
And that someone was a kid from Commerce, Okla., by the name of Mickey Mantle.
Mantle was hyped as the next superstar, and with that hype came great expectations when the Yankees fast-tracked him from the minors. After struggling as a 19-year-old rookie and tearing up his knee in the 1951 World Series, Mantle didn't just meet the expectations -- he exceeded them, becoming the ultimate fan favorite at Yankee Stadium.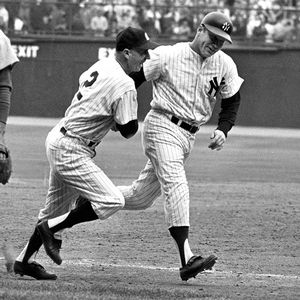 ESPN
Mickey Mantle rounds the bases after hitting a homer to win Game 3 of the 1964 World Series.
During his 18-year career in pinstripes (1951-68), Mantle hit 536 home runs, including a blast on April 17, 1953, that gave rise to the term "tape-measure shot." That one was estimated at 565 feet. Other Mantle homers were estimated to have traveled more than 600 feet from the plate to wherever they stopped rolling.
Mantle followed DiMaggio, Lou Gehrig and Babe Ruth in the line of great Yankees sluggers. Like his predecessors, Mantle's success was measured in the World Series. "The Mick" won seven championships, and he still holds Fall Classic records for homers (18), RBIs (40) and runs (42).
In 1961, Mantle flirted with breaking Ruth's single-season home run record of 60 but was surpassed by teammate Roger Maris, who slugged 61. Mantle finished with a career-high 54.
Mantle, a switch-hitter, was a three-time American League MVP, won the Triple Crown in 1956 and was selected to 20 All-Star Games. Like DiMaggio, he was the highest-paid player of his time.
Mantle retired in 1968 and was inducted into the baseball Hall of Fame in 1974. He died Aug. 13, 1995, at age 63, two months after doctors discovered Mantle had cancer while preparing him for a liver transplant.
Mantle's epic career might have been even better, if not for injuries and a hard-partying lifestyle. But he still managed to be arguably the greatest switch-hitting slugger of all time -- and the favorite player of millions of baby boomers.
-- Mike Mazzeo
2011 New York Hall of Fame classmates: Babe Ruth | Lou Gehrig | Joe DiMaggio | Jackie Robinson