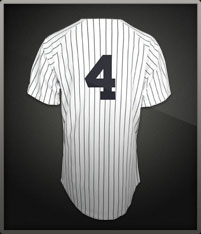 Lou Gehrig
Yankees (1923-39)
On June 2, 1925, the New York Yankees put a kid by the name of Lou Gehrig at first base instead of Wally Pipp -- and they never looked back.
Gehrig became the constant in the Yankees' famed lineups of the 1920s and '30s, fighting through numerous injuries to play in 2,130 consecutive games and earn the nickname "Iron Horse."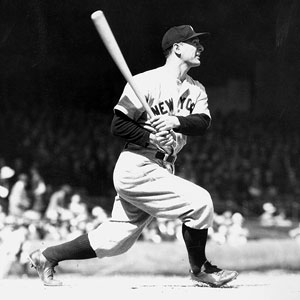 ESPN
Lou Gehrig batted .340 with 493 home runs and 1,995 RBIs during his career.
The native New Yorker spent his entire 17-year career with the Yankees, from 1923 to '39. He also played much of his career in the shadow of Babe Ruth, yet he thrived hitting behind The Babe.
In fact, three of the top six RBI seasons in baseball history belong to Gehrig. He finished his career with 1,995 RBIs, currently fourth all time.
He was a member of six World Series championship teams. He earned two American League MVP awards. He won the 1934 Triple Crown. But he is known best for his consecutive games streak -- a record that stood for 56 years -- and the disease that took his life.
Gehrig's health began to diminish in 1938. His play eventually began to suffer, which is why he took himself out of the lineup.
The streak ended May 2, 1939, when Gehrig presented the Yanks' lineup card to the umpires -- and his name wasn't on it.
Doctors eventually diagnosed Gehrig with a rare degenerative disease, amyotrophic lateral sclerosis. To this day, it is known to many as "Lou Gehrig's disease."
He delivered baseball's most famous speech on July 4, 1939 -- less than two weeks after the Yankees announced his retirement -- for Lou Gehrig Appreciation Day at Yankee Stadium.
"Fans, for the past two weeks you have been reading about the bad break I got," Gehrig said that day. "Yet today I consider myself the luckiest man on the face of this earth. I have been in ballparks for 17 years and have never received anything but kindness and encouragement from you fans."
He concluded by saying, "I might have been given a bad break, but I've got an awful lot to live for. Thank you."
He died less than two years later -- 16 years to the day after taking over for Wally Pipp.
Gehrig was 37.
He might have played in Ruth's shadow, and his career might have ended abruptly, but Gehrig still left a legacy. One that endures to this day.
-- Mike Mazzeo
2011 New York Hall of Fame classmates: Babe Ruth | Joe DiMaggio | Mickey Mantle | Jackie Robinson