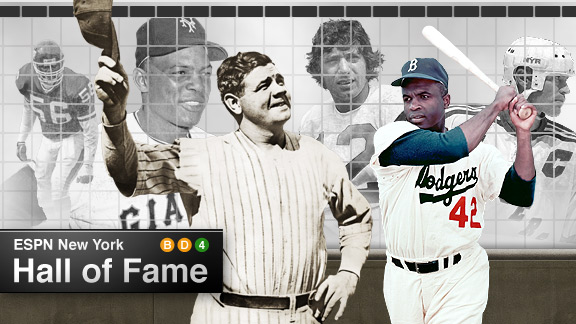 ESPN.com Illustration
Who's worthy? Who isn't? Andrew Marchand moderates a series debates: Watch

There is only one name that ends all New York sports bar arguments. You can go back and forth on an endless number of topics in New York sports history, save for one.
Who is the king of the city?
So when our panel went about picking candidates for the ESPN New York Hall of Fame -- and debating who we think should be in the inaugural class -- we argued about a lot of stuff, except one thing.
Ruth is the undisputed king of New York sports.
There was disagreement over who should be in our top 20, a list you are being asked to whittle down to the five honorees for our first Hall class.
Video
What are George Steinbrenner's
Hall of Fame credentials? Watch

Photo gallery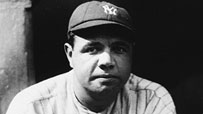 Check out the 20 candidates for the
ESPN New York Hall of Fame: Gallery

How is Patrick Ewing not in our final 20? Meanwhile, Mike Tyson made the cut.
Willie Mays, of all people, is an interesting case. Will he be a first-ballot New York Hall of Famer, considering that he hit 459 of his 660 career homers for San Francisco?
Are numbers more important for a guy such as Ewing, or are the transcendent moments -- "And here comes Willis!" -- a better gauge of Hall of Fame worthiness?
When you compose your list, how do you avoid being too Yankee-heavy? Then again, how many players are actually better than Ruth, Lou Gehrig, Joe DiMaggio and Mickey Mantle?
Is Lawrence Taylor the best non-Yankee over the past century? How about teams such as those classic Islanders championship clubs from the early '80s? How should they be represented even if neither their sport nor their team has the popularity of its competitors?
Then there is rating the historical significance of Jackie Robinson. Robinson was a Hall of Fame player, but he represented so much more, which could give him the edge when all the votes are finally tallied.
These are some of the topics our panel tackled in our roundtables. We even discussed the futures of Derek Jeter, Mariano Rivera and Eli Manning, who won't be active for this Hall of Fame until they retire.
There is one thing, though, you can't conceivably debate: Who is greatest sports figure in New York history?
The "Sultan of Swat" hit 714 homers and had a career OPS (on-base plus slugging) better than 1.164.
Ruth didn't need the boost to his résumé, but he also accomplished most of his hitting stats in New York. Of his 714 homers, 659 were with the Yankees. Ten of his 15 years, he led the league in long balls.
He did it all with a legendary style that no modern player has ever matched.
The only drawback to all of his accomplishments is that they happened during the segregated period of baseball. But that is a mark on the era, not on Ruth.
Ruth stands tall above the competition as the greatest New York athlete of all time. It is unimaginable that anyone can leave him off his or her ballot -- but who follows is open to debate. So have at it.