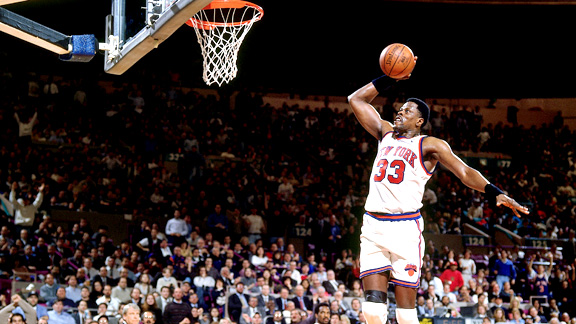 Nathaniel S. Butler/Getty Images
Ian O'Connor and our panel debate Patrick Ewing's absence from the ballot: Watch

Patrick Ewing is never defined by what he was, but by what he was not.
He was not approachable. He was not beloved. He was not good enough or lucky enough to win an NBA title.
Too many fans see Ewing's cup as half-empty, so I had a shocked-but-not-surprised reaction to our panel's decision to exclude the Knicks' former franchise player from a list of 20 finalists for our inaugural class of New York Hall of Famers.
Only make no mistake: Ewing earned his spot on that list and his place in the debate over who's the greatest Knick of all time.
Video
Ian O'Connor: Willie Mays should be a
first-ballot Hall of Famer: Watch

Photo gallery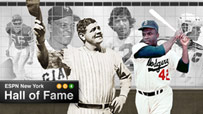 Check out the 20 candidates for the
ESPN New York Hall of Fame: Gallery

I was the lone panelist to vote for Ewing, who was rejected by the thoughtful and professional likes of Wallace Matthews, Johnette Howard, Rob Parker and Andrew Marchand. Their chief argument sounds like the groan that came out of the Garden cheap seats the day the "Big Fella" missed the Little Finger-roll against the Pacers.
Ewing never won a ring.
So be it. Willis Reed and Walt Frazier are deserving Top 20 members, and this counter-argument isn't meant to diminish anything they accomplished in seizing the franchise's only two championships.
But Ewing did score 24,815 points in his career (95 percent of them for the Knicks), more than double Reed's total. Reed and Frazier also had something Ewing never had:
Each other.
If Ewing could've thrown outlet passes to Frazier, he surely would've had a ring or two to call his own. In fact, the 7-footer never had a Scottie Pippen or a Dwyane Wade or a Carmelo Anthony or any credible complementary star to drive him over the top.
Of course, Dirk Nowitzki just reminded everyone that one superstar can carry a team to a title. But when Nowitzki lost his touch and needed a little help, Jason Terry made the shots he had to make.
Ewing? John Starks dealt him that 2-for-18 in the Game 7 loss to Houston in the '94 Finals.
"I had good guys with me," Ewing said in March, "and I'd never take anything away from them. I had John, Allan [Houston], Spree, [Charles] Oakley. But none of those guys were of the caliber of Carmelo. I didn't have a Carmelo."
No, Ewing didn't have the Eastern Conference firepower required to overthrow Michael Jordan, only the best there ever was.
But in the year Jordan went off to play minor league baseball, Ewing delivered the Knicks to their first Finals appearance in 21 seasons by dropping 24 points, 22 rebounds, seven assists, five blocks and the series-deciding putback dunk on Indiana in Game 7. He punctuated the moment by standing on the scorer's table and stretching his arms wide as if to embrace the Garden crowd.
Maybe that was the one and only time Ewing connected with the fans. Maybe he should have played the game with a generosity of spirit that eluded him.
And yes, maybe he should've ripped the ball out of Starks' Game 7 hands in '94, and maybe he should've slammed home that wayward finger-roll the following year.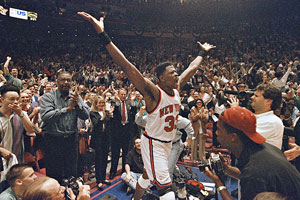 AP Photo/Charles Rex Arbogast
Patrick Ewing had the Garden crowd in his hands after a victory in Game 7 of the 1994 East finals.
But Ewing forever played hard and played hurt. He led the league in ice packs, and still leads the franchise in points, rebounds, blocks and games played.
If that wasn't good enough for a parade, it sure as hell should've been good enough to make our Top 20.
A few other points on our selections:
• Active athletes, coaches and owners are not eligible.
• Statistically, Jackie Robinson doesn't belong in the top five, our inaugural class of Hall of Famers. But he's arguably the most important athlete in the nation's history, reason enough to put him in there with The Babe.
• Is Willie Mays a legitimate New York star despite the fact he hit 459 of his 660 homers in the colors of the San Francisco Giants? Without question.
Mays won his only title in New York and made the most memorable play of his career in the Polo Grounds –-- The Catch against Cleveland's Vic Wertz in the '54 World Series. The iconic photo of Mays playing stickball in Harlem is the clincher.
• Mike Tyson did not belong in our Top 20, not after he wasted so much of his talent, got convicted of rape and chewed off a piece of Evander Holyfield's ear. Tyson is better remembered for his bitter defeats (Holyfield, Buster Douglas, Lennox Lewis) than for his earlier conquests (Trevor Berbick, Larry Holmes, Michael Spinks).
Losing to Kevin McBride alone should've disqualified him from this list.
Ian O'Connor is the author of "The Captain: The Journey of Derek Jeter."