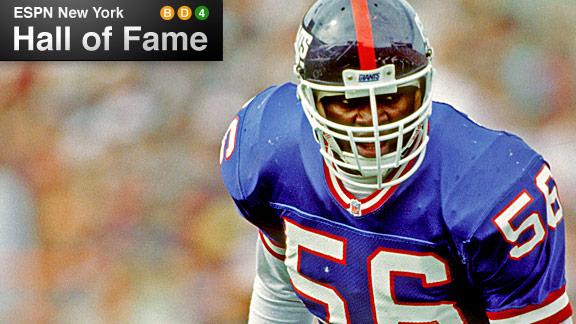 US Presswire
Johnette Howard and our panel debate Lawrence Taylor's first-ballot worthiness: Watch

It takes a lot to rank among the top five athletes in baseball-mad New York when you have to compete with Babe Ruth and Joe DiMaggio, Lou Gehrig and Jackie Robinson, Willie Mays and Duke Snider.
But here's why Lawrence Taylor belongs in the inaugural class for the ESPN New York Hall of Fame: He was the prototype for the ideal linebacker from the moment he hit the NFL.
And 18 years after he retired from the Giants, Taylor remains the prototype.
Players have come along and hit more home runs than the Babe or finished with a higher career batting average than DiMaggio. Gehrig's record for consecutive games eventually fell. Taylor, on the other hand, is often imitated but never duplicated.
Video
Which athletes had Hall of Fame skills -- and the troubles to match? Watch

Photo gallery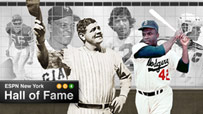 Check out the 20 candidates for the
ESPN New York Hall of Fame: Gallery

The 6-foot-4 Taylor had the perfect build for a linebacker. He played at 240 pounds and ran like a deer. He was tough, too. He played with no regard for injuries or pain, and he had a disposition every bit as nasty as other great linebackers, from Bednarik to Butkus, Singletary to Lambert.
Taylor was big enough to fight off blocks and stop the run, yet fleet enough to fly off the edge and smother a quarterback before the poor guy even had time to say, "Oh @#%$!" He changed the outside linebacker's job description from a read-and-react gig to an attacking position. He changed how people in the game thought and expanded what they previously thought was possible.
Told once by Giants coach Bill Parcells that a sack he'd made "wasn't in the playbook" because he'd freelanced and ignored his assignment, Taylor shot back, "Well, you better put it in there by Monday."
It would be stretching the truth -- though only a little -- to say the three-step quarterback drop was invented because of Taylor. But he did change the way NFL teams plotted their blitz schemes, offensive line play and offensive formations. Redskins coach Joe Gibbs said he invented the two-tight end (or H-back) set because trying to block Taylor with a running back was futile. Niners coach Bill Walsh, another offensive whiz, started using an extra offensive tackle to try to stop Taylor for the same reason.
To this day, if you want to infuriate some of the guys who played with or against Taylor, just sigh nonchalantly and say, "Awww, Taylor was pretty good all right. But I don't know about best ever." Then prepare to get an earful of stories about, say, his 20.5-sack season, the way he led the Giants to two Super Bowl wins, or the fact he won a league MVP award, not just Defensive Player of the Year (though he had three of those, too).
Expect to hear testimonials like this:
"He dang-near killed me," Steelers quarterback Terry Bradshaw said after playing against Taylor for the first time. "I kept saying, 'Who is this guy?' He kept coming from my blindside and just ripped my ribs to pieces."
"In 30 or 40 years, I'm going to take out the tapes and show them to my grandkids to show them I really played against Lawrence Taylor -- the greatest," running back Keith Byars once said. "He was everything they said he was."
Taylor's many, many off-field problems make unqualified admiration for him impossible.
But when viewed strictly as an athlete, it's impossible to diminish how spectacular he was.