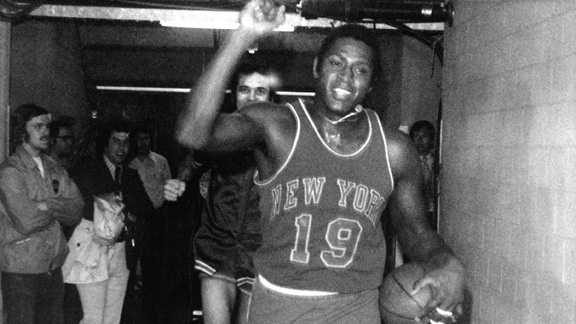 AP Photo
Willis Reed? Joe Namath? Wallace Matthews defends his Hall of Fame picks: Watch

A Hall of Fame for New York sports should be a unique place, a place to enshrine those athletes whose careers gave us moments that are never to be forgotten, even if their careers as a whole were average at best, or even forgettable.
This is not the Baseball Hall of Fame we're talking about, or the Pro Football Hall of Fame or the Naismisth Memorial Basketball Hall of Fame. We're not ranking these players relative to others in their particular sport. We're ranking them solely on their value and impact on the sports history of this, the greatest sports city in the country.
For example, although they will never wind up in Cooperstown or Canton or Springfield, Mass., one day you might see Cleon Jones or Scott Brosius or David Tyree in the ESPN New York Hall of Fame, simply because they left indelible marks on the sports fabric of this town.
By that yardstick, my choices for the inaugural class -- if I actually had the final say -- were easy: Babe Ruth. Jackie Robinson. Tom Seaver. Joe Namath.
Video
Rob Parker: Broadway Joe should be a first-ballot Hall of Famer: Watch

Photo gallery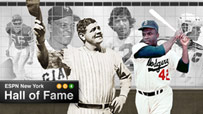 Check out the 20 candidates for the
ESPN New York Hall of Fame: Gallery

And Willis Reed.
That's right. Willis Reed. Not Patrick Ewing.
And Joe Namath. Not Y.A. Tittle or Phil Simms. But more about that later.
Ruth, of course, is a no-brainer. Greatest baseball player of all time, no contest, and forever a Yankee. Seaver, just as easy. The pitcher who changed the entire culture of a franchise. If I have to explain why Robinson is in this group, you're either too young or have never visited the rotunda at Citi Field.
Which brings us to the two that we can actually argue about, although not for very long.
Sometimes, the numbers tell only part of a story, and sometimes, they don't even begin to scratch its surface. Neither Joe Namath nor Willis Reed, statistically, is among the greatest who ever played his position.
But both provided never-to-be forgotten moments in crucial situations that supersede anything they did on any other day of their careers.
Namath and Reed deserve their spots not because they had transcendent careers, but because they provided touchstone moments in the history of New York sports.
Yes, I am well aware that Namath's career completion percentage was a mere tick above 50 percent, and that he threw more interceptions (220) than touchdown passes (173). I know that his team's record in games he started was a very mediocre 62-63-4, and that after Super Bowl III, Namath's Jets never won another playoff game.
And I also know that he did not deserve the MVP trophy for that watershed victory over the Baltimore Colts, that it really should have gone to Matt Snell.
But when it comes to the top five moments etched into our memories from the rich history of New York sports, the sight of Joe Namath running off the field at the Orange Bowl with his index finger raised in the "We're No. 1" sign has got to be one of them. And it always will be.
No one would be foolish enough to suggest that without Joe Namath and the Jets beating the Colts that January afternoon in 1969, the AFL and NFL never would have merged, or that pro football would be in any way different than it is today.
But someone had to lead the charge, and Joe Namath was that man. For that alone, he deserves a spot in the inaugural class of the ESPN New York Hall of Fame.
Which brings us to Reed.
We all know that by the numbers, Ewing was a better player than Reed. His scoring average was higher (21 to 18.7), his edge in durability was unquestioned (17 seasons, 1,183 games as opposed to 10 seasons and 650 games) and he played with a much inferior supporting cast.
But which Knicks memory do you take with you, the sight of Willis Reed, hobbling onto the court for Game 7 of the 1970 NBA Finals with a torn thigh muscle, perhaps the most inspirational performance by a pro athlete in New York sports history, or of Patrick Ewing missing the finger roll against Indiana in the 1995 Eastern Conference finals? How about him stepping onto the court during a brawl with the Miami Heat in the 1996-97 playoffs, drawing a one-game suspension that spurred his team to blow a 3-1 series lead?
Reed's legacy is that transcendent moment and, oh yeah, two NBA championships on his watch, the last time the Knicks won anything of note. So, too, the Jets and Namath.
So you can throw all the numbers at me that you want. It doesn't matter.
In the history of New York sports, Joe Namath and Willis Reed deserve their spots among the first five inductees more than anyone I can think of. Anyone not named Ruth, Seaver or Robinson, of course.