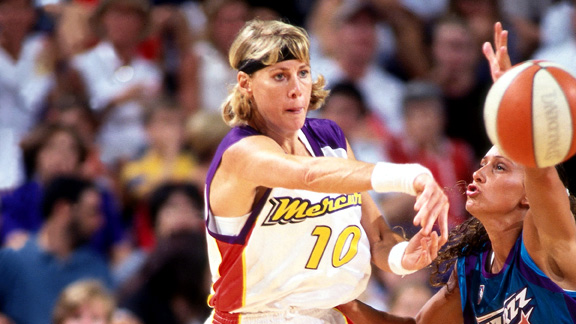 Barry Gossage/Getty Images
At age 39, Nancy Lieberman played for Phoenix when the WNBA made its debut in 1997.
Nancy Lieberman will take her teenage son T.J. on a historical tour this week.
Relatively speaking, the history isn't that old. But it's happily nostalgic enough for Lieberman that it could be sepia-toned to convey a genuine sentimentality.
It's the tale of her life as both a New Yorker and basketball player. Lieberman serves as a connecting point to the overall story of the Big Apple and its influence on the women's game.
The sport has many roots that are rural and Southern. But the two major metropolitan areas that have had the most impact on the growth of women's basketball are Philadelphia and New York.
Lieberman, who was born in Brooklyn but grew up in Far Rockaway, is taking T.J. to the Naismith Memorial Hall of Fame in Springfield, Mass., for Friday's enshrinement ceremonies. She herself was inducted in 1996. Then she and her son will go to New York City. There, they will see Lieberman's elementary school, visit her old neighborhood, take in a Yankees game.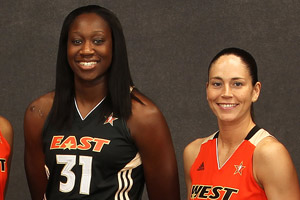 Chris Covatta/Getty Images
WNBA All-Stars Tina Charles and Sue Bird both played for Christ the King in Queens.
And T.J. will get a look at Harlem's Rucker Park, to which current NBA star Kevin Durant brought a recent spotlight by scoring 66 points in an exhibition there last week. Lieberman is going there to appear in a documentary on the famed inner-city basketball sanctuary.
She used to show up there to play basketball as a teenager, riding the subway while trying to look nonchalant, detached and tough all at the same time. Was she ever scared? Of course. But New Yorkers know you don't show fear.
"At first, some of the guys would say to me, 'What are you doing here?'" Lieberman recalled. "And I'd say, 'Is your name Rucker? No? Then it ain't your park. Anybody can play here.' They loved that.
"I had flaming red hair, and they called me 'Fire.' They were my heroes. They let me be who I was. They didn't judge me or profile me."
They knew Lieberman had to have courage just to come and nudge her way into games on the New York City playgrounds, especially as a girl in the 1970s.
"Rucker Park is not about basketball, ultimately. It's about respect," Lieberman said. "You've got to earn respect. It's about putting it on the line, being physical, standing your ground. It's that mentality, which, frankly, is a little foreign for a lot of women."
Lieberman's experiences as a player in New York no doubt helped in her coaching career, most recently with the Texas Legends of the D-League. She's now moving into the Legends' front office so that her travel will be less during T.J.'s senior year of high school.
For a player born 30 years after Lieberman -- Tina Charles, a native of Jamaica, N.Y. -- the question about what "New York style" means in basketball brings this response.
Video
Our panelists make their picks for the ESPN New York Hall of Fame: Watch

Photo gallery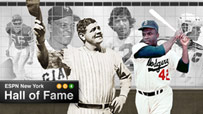 Check out the 20 candidates for the
ESPN New York Hall of Fame: Gallery

"I think we all have our certain kind of swag to our game," Charles said. "Little things that we do, how we get creative a little bit."
Charles was the WNBA's Rookie of the Year in 2010 for Connecticut; this season she's an MVP candidate. She won two NCAA championships at UConn, and before that was one of several girls basketball superstars from powerhouse high school program Christ the King in Queens.
Also among the prep alums from the school are two of the best ever in the women's game, guard Sue Bird and forward Chamique Holdsclaw. Bird won two NCAA titles at UConn and Holdsclaw won three at Tennessee. Both also have won Olympic gold.
And while swagger may indeed be a big part of the NYC hoops-playing stereotype, it's not universal to every New York-based basketball star. Bird, who grew up in Syosset on Long Island, acknowledges with her standard self-deprecation that she did not go to New York City's playgrounds as some sort of hoops right of passage. That said, no one who's watched the future Hall of Famer would ever question her toughness.
She wanted harder competition after her sophomore season in high school and transferred to Christ the King. She credits former Royals coach Vince Cannizzaro with insisting there was a right way to do things while teaching players both for Christ the King and the Liberty Belles AAU club.
"There are a lot of fundamental things that you see are missing now, even in pro players," Bird said. "Those are things I was taught by Coach Cannizzaro and the people who worked with him. I know they have helped make me the player I am today. What you learn at that young age sticks with you.
"[If] a ball was thrown to you, and you just tried to dribble it without actually catching it first, you'd get in trouble. That's just one small example, but there are tons. I think back to our practices and what was expected of us. There couldn't have been a better situation to have prepared me for college and beyond."
Bird is one of a group of players who are New Yorkers or have strong connections with the metro area that was at the recent WNBA All-Star Game in San Antonio. Also playing were Charles and former Rutgers standouts Cappie Pondexter, Essence Carson and Epiphanny Prince.
Pondexter is from Chicago but now plays for the New York Liberty, as does Carson, who is from Paterson, N.J. Prince, a New York City native who once scored 113 points in a game for Murry Bergtraum High, plays for the WNBA's Chicago Sky.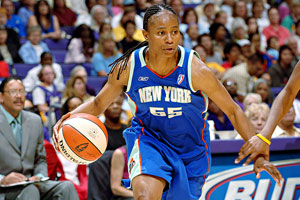 Andrew D. Bernstein/NBAE/Getty Images
Vickie Johnson is a starter on our all-time Liberty team. Check out the rest of the squad.
"My thing was following Sebastian Telfair," Prince said of her primary inspiration when she was in high school. "I didn't know as much about women's basketball. But now I feel like the coverage for it is better. I can tell by how more people now tend to recognize us."
There is quite a lengthy list of New York connections to the WNBA, for which the Liberty was one of the original eight franchises in 1997. Former league president Donna Orender grew up on Long Island and played for Queens College. Longtime Liberty general manager Carol Blazejowski, who's from Elizabeth, N.J., was a scoring whiz at Montclair State who once put in 52 points against Queens College at Madison Square Garden in 1978.
Anne Donovan, of Ridgewood, N.J., won Olympic gold both as a player and a coach for the United States, plus steered Seattle to a WNBA championship in 2004. She guided the Liberty to the Eastern Conference finals last year and now is head coach for the women's hoops program at Seton Hall.
Donovan and Lieberman were college teammates at Old Dominion. And while their personalities are about as different as their body types -- the feisty 5-foot-10 guard versus the more poker-faced 6-8 center -- Lieberman and Donovan shared the same competitive fierceness.
It's all part of a broad tapestry of basketball that includes the playground, high schools, college and the WNBA.
"The players who've come out of New York are bonded by their history and love of the game," Lieberman said.
Even those who aren't actually from the Big Apple area also can become part of that bond. Teresa Weatherspoon and Vickie Johnson grew up in small towns in the South, then went to college at Louisiana Tech in Ruston, La. Becky Hammon is from Rapid City, S.D., and played for Colorado State. But all three became "honorary" New Yorkers as members of the Liberty.
The Liberty lost the first WNBA championship to Houston in 1997 (that inaugural season, it was just one game, not a series). Subsequently, the Liberty went to the WNBA Finals three more times.
"We knew that for the league to survive early on, we had to be good," Weatherspoon said of the Liberty's impact on the WNBA. "We had to win, because of the market we were in. But was that added pressure bad? No. Because that's what the city is all about. It was some of the best times of my life."