Rank 'Em: The 20 Greatest Mets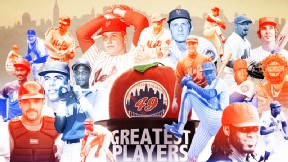 ESPN.com Illustration
In honor of the 1962 Mets' first-ever home game (they lost), we give you the 49 Greatest Mets.
But while we're done now sweating over our own list, we're still very much interested in what you think.
Did we get it right -- or would you scramble it up? We've put our top 20 below to give you a chance to rearrange the order yourself.
Hover your mouse over the images below for more details, then rank your favorite Mets by dragging the thumbnails to the right.
And if there's a name you think is missing, click here to submit your suggestion for the 50th Greatest Met.
For more info -- and some amazing photos -- click here to check out our 49 Greatest Mets gallery.


The 20 Greatest Mets
Tom Seaver

Tom Seaver
Tom Terrific's arrival in '67 helped bring about the Miracle Mets two years later.
Doc Gooden

Doc Gooden
Doc had one of the greatest seasons ever, going 24-4 with a 1.53 ERA and 268 K's in 1985.
D. Strawberry

D. Strawberry
Straw is still the franchise leader in home runs (252).
Mike Piazza

Mike Piazza
Piazza led the Mets to the Subway Series in 2000, hammering 220 homers.
David Wright

David Wright
The current face of the franchise, Wright is poised to pass Straw for all-time RBI lead.
Jerry Koosman

Jerry Koosman
Kooz set the standard by which all Mets lefties are judged.
Keith Hernandez

Keith Hernandez
Hernandez was an RBI machine and a whiz at first for a perennial contender that won it all in '86.
Jose Reyes

Jose Reyes
Reyes' nine-year Mets career at short was marked by spectacular plays and chronic injuries.
Gary Carter

Gary Carter
In his first game as a Met in '85, Kid hit a game-winning homer in the 10th.
Carlos Beltran

Carlos Beltran
For most of his six-plus years as a Met, Beltran was a feared hitter and a stellar center fielder.
E. Alfonzo

E. Alfonzo
Best known for his clutch hitting, Fonzie is among the top 10 in virtually every career category.
Al Leiter

Al Leiter
Leiter won 95 games in six seasons and started two games in the 2000 Subway Series.
H. Johnson

H. Johnson
HoJo is third on the Mets' all-time list for both home runs (192) and stolen bases (202).
John Franco

John Franco
A Brooklyn kid from Bensonhurst, Franco saved 276 games for the Mets in 14 seasons.
Mookie Wilson

Mookie Wilson
He was a fan favorite for many years -- those aren't boos; they're Mooooooookies!
Cleon Jones

Cleon Jones
Jones was the batting star of the Miracle Mets, hitting a team-high .340 with a .422 OPB.
Ron Darling

Ron Darling
A kid from Hawaii, Darling became a key cog in the rotation for the '86 Mets.
David Cone

David Cone
Cone cut he teeth in Flushing, highlighted by a 20-3 campaign in 1988.
Tug McGraw

Tug McGraw
In 1973, McGraw coined the ultimate Mets rallying cry: "Ya Gotta Believe!"
Bud Harrelson

Bud Harrelson
Harrelson's signature moment came in the '73 NLCS, with a hard slide by the Reds' Pete Rose that sparked a bench-clearing brawl.
Your Rankings
1.

2.

3.

4.

5.

6.

7.

8.

9.

10.

11.

12.

13.

14.

15.

16.

17.

18.

19.

20.