Rank 'Em: The 20 Greatest Yankees
Created: March 24, 2011, 2:52 PM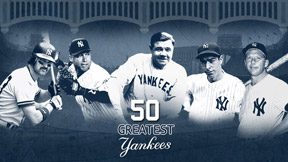 ESPNNewYork.com Illustration
Building our list of the greatest Yankees was no simple task.
We picked 50 -- now we're asking you to rank 20.
After weeks of mulling over our ballots and counting votes from our writers and editors, we put together what we feel is a pretty amazing group of ballplayers -- which you can view here -- but we're much more interested in what you think.
Did we get it right -- or would you scramble it up? Are Mariano Rivera and Derek Jeter too high? Or perhaps they're too low? We've put our top 20 below to give you a chance to rearrange the order yourself.
Hover your mouse over the images below for more details, then rank your favorite Bombers by dragging the thumbnails to the right.
For more info -- and some amazing photos -- click here to check out our 50 Greatest Yankees gallery.
-- Matt Marrone, ESPNNewYork.com
Rank 'Em: The 20 Greatest Yankees

Loading...

&nbsp