Rank 'Em: Derek Jeter's 10 Greatest Moments
Created: May 12, 2011, 3:30 PM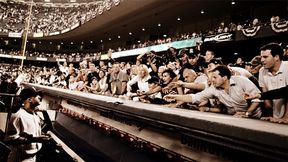 The Flip. The Dive. The Stadium Farewell.
Mr. November. Subway Series MVP. The Captain.
Derek Jeter's résumé is about as impressive as any we've seen here in the Big Apple, and as Jeter gets closer to career hit No. 3,000 -- which will make him the first player ever to reach that milestone as a Yankee -- ESPNNewYork.com is looking back at The Captain's greatest moments.
Read our top 10 list here, and then drag and drop the images below to make your own.
Just hurry, because pretty soon Jeter will have 3,000 hits -- or maybe even make another season-saving play -- and we'll all have to tear up our lists and start over again.
-- Matt Marrone, ESPNNewYork.com
Total SportsNation Votes:

9,795
How are the points calculated?
On a poll with 10 options, a No.1 ranking equals 10 points, a No.2 ranking equals 9 points, etc. The item with the most points will be ranked first.