Rank 'Em: Top 20 All-Time Giants
Created: September 9, 2011, 4:06 PM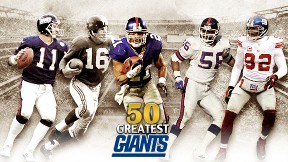 Building our list of the greatest Giants was no simple task.
We picked 50 -- now we're asking you to rank 20.
After weeks of mulling over our ballots and counting votes from our writers and editors, we put together what we feel is a pretty solid group of Big Blue luminaries -- which you can view here -- but we're much more interested in what you think.
Did we get it right -- or would you change it around?
Hover your mouse over the images below for more details, then rank your favorite Giants by dragging the thumbnails to the right.
For more info -- and some great photos -- click here to check out our 50 Greatest Giants gallery.
Rank 'Em: Top 20 All-Time Giants

YOUR RANKINGS

1.
2.
3.
4.
5.
6.
7.
8.
9.
10.
11.
12.
13.
14.
15.
16.
17.
18.
19.
20.



Total SportsNation Votes:

12,718
How are the points calculated?
On a poll with 10 options, a No.1 ranking equals 10 points, a No.2 ranking equals 9 points, etc. The item with the most points will be ranked first.