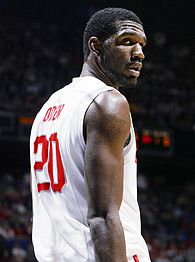 Brian Spurlock/US PresswireGreg Oden was the No. 1 pick in the NBA draft.
Call it a karmic do-over for Sam Bowie.
Portland emerged as the surprise winner of Tuesday's NBA Draft Lottery, beating the odds to win the right to select either Kevin Durant or Greg Oden with the No. 1 pick.
The surprises didn't stop there, with Seattle leapfrogging several teams with better odds to win one of the best consolation prizes in draft history. As a result, fans in Boston and Memphis were left to ponder what went wrong as their supposed salvation heads to the Pacific Northwest.

So after some time to digest the results, what's your take on the lottery action, SportsNation? Which player is the best fit for the Trail Blazers and Sonics? Were Tuesday's results justice in the face of teams tanking games or proof that the NBA needs to junk its selection method?
Vote on all things Oden and Durant, SportsNation!