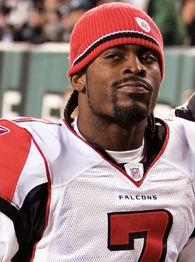 Michael Vick's off-field battles have taken center stage.
Michael Vick's offseason nightmare just added a new chapter. The star quarterback has been indicted on two felony counts related to dogfighting at his Virginia home.
Federal authorities have had their eye on Vick for weeks, searching his home thoroughly, discovering dog fighting paraphernalia and dog carcasses that Vick says he was unaware of.
The announcement of the indictment puts Vick's football future in doubt and leaves the Atlanta Falcons wondering whether he will be around for the whole season. Can the team fight through the distractions? Will Vick be convicted? Should the team cut ties with the embattled signal-caller?
Cast your vote below and compare your answers to that of SportsNation!