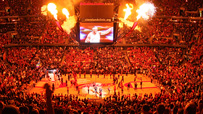 Playing in Quicken Loans Arena burns a lot of visiting teams.
As they prepare for the final home game of the season, the Cleveland Cavaliers have already wrapped up home-court advantage throughout the NBA playoffs. That could actually work against the team's chances to make history, as a win against the Philadelphia 76ers would tie the 1985-86 Boston Celtics for the best home record in NBA history at 40-1.
But if Quicken Loans Arena in Cleveland is the toughest place to win on the road this season, is it the toughest in all of pro sports at the moment?
Using the home team's record for the past five seasons, we've come up with 10 candidates as the toughest road trip in pro sports. Which venue is most impenetrable?
(Notes: The New York Yankees and Indianapolis Colts were disqualified based on insufficient data from new stadiums. Records for NBA and NHL teams include 2008-09 regular season and only four postseasons. Records for NHL also begin with 2005-06 season, after work stoppage. Early 2009 results for MLB and MLS teams not included).