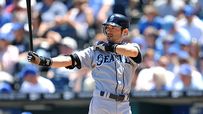 Does Ichiro Suzuki make the cut?
As ESPN celebrates its 20th year of bringing you baseball at its finest, we're looking for your help in choosing an all-star team to represent the era.
Here's how the selection process works. From the start of the season through Sunday, June 21, SportsNation will be able to vote below for its choice at each position from a list of 10 candidates compiled by the ESPN baseball team. At that time, based on your votes, we'll narrow the field to three candidates at each position. And each week after that, you'll vote to determine the winner at one position from the list of three finalists.
So check out the candidates below (selected based on performance after 1990) and help us get started on putting together the ultimate team from 20 years of baseball on ESPN!