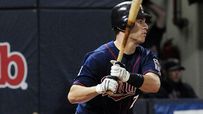 Is Joe Mauer your starting catcher?
As the midway point of the season approaches, it's time to once again seperate the wheat from the chaff, the gold from the dross, the...great players from the not-so-great. It's time to select the starters for each position on the American League All-Star team.
As usual, some areas are clear-cut, while others require debate and contemplation. Mark Teixeira and Kevin Youkilis are neck-and-neck at first base in the official voting, which mirrors their similarly-excellent seasons. Shortstop is a tossup, with the position being surprisingly weak in the American League, while fans have several excellent outfielders and starting pitchers to choose from.
Who would start on your team, SportsNation? Cast your vote now!
NL All-Star Team