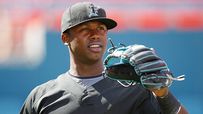 Is Hanley Ramirez your starting shortstop?
As the midway point of the season approaches, the annual tradition of selecting those particular gentlemen who are more skilled at baseball than their fellows is upon us. It's time to select the National League All-Star starters.
As usual, some areas are clear-cut, while others require some discussion. First base is a strong position in the NL, but Albert Pujols is clearly at the top of the heap. Hanley Ramirez or Troy Tulowitzki would both be good choices at shortstop, as Jose Reyes and Jimmy Rollins have exited the discussion, at least for this year. In the outfield, Manny Ramirez may have been suspended, but does that matter to you?
Who would start on your team, SportsNation? Cast your vote now!
AL All-Star Team