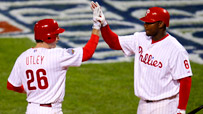 Will the Phillies repeat as world champions?
The 2009 regular season is finally over, and the postseason is about to begin. This year's playoff matchups are sure to provide drama in excess, as familiar storylines clash with fresh plots.
In the American League, the Angels will try to break a 23-year run of futility against the Red Sox. Los Angeles and Boston have met three times in the ALDS since 2004, with the Red Sox getting the better of some very good Angels teams. Elsewhere, the Yankees take on the Twins, winners of a dramatic one-game playoff on Tuesday. New York recovered from a shaky start to win 103 games, the most in the majors.
In the National League, the Phillies face off against the Rockies in an attempt to bring another World Series title to Philadelphia. The Phillies have a strong lineup and rotation but face issues in their bullpen with the collapse of Brad Lidge. Colorado looked to be done early in the season, but after Clint Hurdle's firing, Jim Tracy brought back memories of 2007 with a hard-charging conquest of the wild card. Conversely, the Dodgers-Cardinals series is one between teams that have cruised for a good portion of the season; Los Angeles seemed to have locked up the West early on, while the Cardinals never faced a serious challenge in the Central.
Which team will win each matchup, and which is the favorite to make it to the World Series? Cast your vote now!