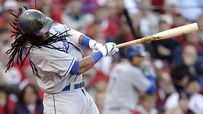 Will the Dodgers make it to the World Series?
After some exciting finishes in the division series of both leagues, Major League Baseball's championship series are about to begin.
In the American League, the Angels finally got over the Red Sox-shaped hump that had haunted them for over 20 years. Los Angeles outclassed Boston in nearly every facet of the game, capping their win with a comeback over Jonathan Papelbon in the ninth inning at Fenway Park. They'll have their work cut out for them in the form of the mashing New York Yankees, who are fresh off a sweep of the seemingly hapless Twins.
In the National League, the Dodgers took the best Albert Pujols and the St. Louis Cardinals had to offer and persevered, sweeping St. Louis in a series that seemed to never be in doubt. The Phillies took a more circuitous route to the NLCS, dealing with a feisty Rockies team that beat them once in Colorado. Philadelphia's ninth-inning comeback against Huston Street almost mirrored the Angels' win against Boston.
Which team will win each matchup, and which team is the favorite to win the World Series? Cast your vote now!