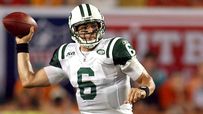 Do the Jets have the best uniforms in the NFL?
Is your favorite team's uniform sublime or a crime? What about other teams? All 32 NFL squads are listed below -- please grade their uniforms on a scale of 0 (awful) to 5 (awesome). Forget about throwbacks and alternates; just stick to each team's basic home and road uniforms. Take everything into account -- helmets, jerseys, pants, the works.
Once you've finished with that, do the same thing for all of this season's AFL throwback uniforms by clicking here. Also, vote on your favorite (and least favorite) uniform conventions.