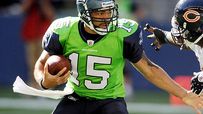 What do you think of the Seahawks' alternative uniforms?
Been waiting to sound off on some NFL uniform trends? Now's your chance!
From the Seahawks bright "X-Box" green jerseys to the Broncos yellow and brown AFL throwback uniforms, there have been many different uni-styles this NFL season (for better or for worse).
Choose one response for each of the following 12 questions:
Once you've finished with that, do the same thing for all of the NFL's uniforms by clicking
here
. Also, vote on your favorite (and least favorite)
throwback unis
.