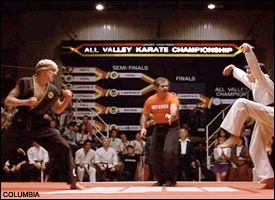 Welcome to SportsNation's first annual All-Valley Video Championship voting page!
The concept is very simple. We at SportsNation love karate, awesome viral videos and Ralph Macchio. So, obviously, we've combined these three loves by entering 16 of the best videos ever featured on our show in a "Karate Kid"-style tournament.
With one round complete, we've already seen some upsets. "Sling Jaw Wrasse" slipped by perennial favorite "Ice Cream Face" while "Soccer Coach Fail" cruised past "Mascot Tackle." What's next?
Click on the links to view the videos, vote for your favorites, and then tune in to SportsNation on Dec. 23, at 4 ET, on ESPN2 to see which video emerges from the bloodbath as the champion.
STRIKE FIRST. STRIKE HARD. NO MERCY.
SCROLL BELOW THE BRACKET TO CAST YOUR VOTE! (Don't screw this up)